#TBT – What Did We Wear On Our Wedding Day?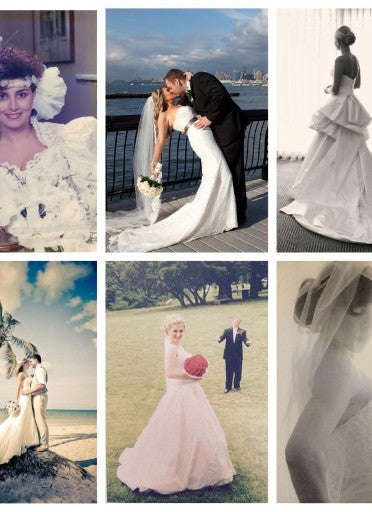 Ever wonder what a bridal consultant wears on their wedding day? Take a look at some of our very own Elizabeth Johns employees on their wedding day and what they think about their wedding gown choices today!
Melinda, Salon Owner: I remember feeling so beautiful on my wedding day, and so excited!  Even though my dress today looks like it belongs in a wedding taking place 25 years ago, I still think it's a beautiful ball gown!
Marina, Ardmore Bridal Consultant: "Buy the dress that makes you feel most like yourself. Because that's who he fell in love with." My favorite part of my dress was the fact that I could twirl in it all night and when my husband saw me walking down the aisle, he started bawling and I started laughing! The whole day just felt like a dream and was the most fun day of my life!
Whitney, Ardmore Bridal Consultant: When I got engaged, I was designing wedding gowns in New York City and chose a gown that was  created for the runway. My mom and grandmother came to visit and after trying on multiple gowns, I walked out in this gown and they didn't say a word, but I saw it on their faces. My mom finally said, "Oh it is just stunning and no one would expect it."
That was really important to me. I wanted to wear something a little different, new and exciting that people hadn't seen before. One of the most special things about my wedding was that I had a hand in making my wedding gown from design to construction. The experience of having a couture gown created just for me was something I will never forget and after 5 years, I still look back knowing I could not have made a better choice.
Dana, Ardmore Salon Manager: My June wedding was in held at Dreams Punta Cana in the Dominican Republic. We were lucky enough to spend a week at the resort surrounded by family and friends. Every moment of the wedding day felt so perfect – from the warm tropical breeze to all the wedding guests and bridal party jumping in the pool after the reception. I never felt so beautiful as I did on that day. My dress was a beaded lace, modified A-line and everything I could have ever dreamed of for my wedding.
Erica, Ardmore Bridal Consultant: What I loved most about my gown was the pattern and texture as well as the way it shimmered as I walked!  One of my favorite moments was when my father surprised everyone at the wedding by having the Mummers Quaker City String Band show up at the reception and they made my husband get down on one knee and serenade me with "It Had To Be You".  It was the sweetest thing!
Caitlin, Director – Marketing & Communications: While planning a tented wedding on a pier in Hoboken, NJ was not at all easy, wedding dress shopping was! After trying on just a few dresses, I found "the one!" Just like that, I put on this beaded, lace beauty and fell in love – mom approved, of course! Add a chapel length veil, vintage accessories and my look was complete!
My wedding day was pure magic and I've never felt as beautiful and confident as I did on that day – a feeling I will never forget!