EJ Wedding Spotlight – Sarah & Thomas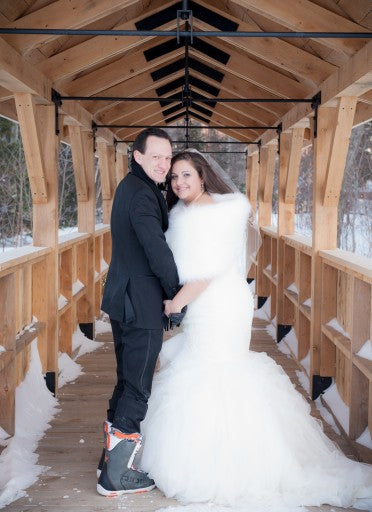 Do you believe in fate? Well, we do…and this bride is exactly the reason why! After a few discouraging bridal salon experiences, Sarah decided to move on to bridesmaids dresses. That's why she walked into Elizabeth Johns, but she walked out with a wedding gown and a new perspective!
Sarah and her husband Thomas were married in January in a gorgeous winter wedding at the Stowe Mountain Lodge in Stowe, VT! Complete with views of the slopes, lots of snow, and tons of personal details – the entire day was beautiful from start to finish! Sarah looked absolutely amazing in her Pronovias gown with a custom monogram veil from Elizabeth Johns! Her bridesmaids wore sophisticated, black Noir by Lazaro floor-length gowns – each a little different to highlight her bridesmaids personality and style!
See more of Sarah & Thomas's beautiful winter wonderland wedding day below and get wedding planning advice from the bride! Every gorgeous minute was captured by Paige Hiller Photography.
From Sarah: I had been shopping for about a month or so with little-to-no success, as I wasn't happy with the fit of the sample sizes many salons offered. I was so discouraged with my experience that I decided to move on to bridesmaid gowns. One beautiful Saturday in March, I brought one of my bridesmaids to Elizabeth Johns to try on the dresses I had in mind. While she was in the fitting room, the salon manager, Dina, had asked me if I had found my dress yet. I explained to her my lack of success. It was then that she asked me to describe what I was looking for and I could see the wheels turning in her head. She immediately suggested a Pronovias gown she thought would be perfect and asked if I would mind if she brought it out to show me. Of course, I accepted her offer, even though I was sure it would probably just be another disappointment. When she came out with the dress, I knew it was THE DRESS! Even on the hanger and after trying it on, there was no doubt – I had found my dress!!
From Sarah: My favorite memory from our wedding day was the first dance as husband and wife. We had taken lessons at Arthur Murray in Chatham, NJ with Rocco, the BEST dance instructor in the world. He made my rhythmically-challenged husband look like Patrick Swayze on the dance floor and was very good about reminding us that we would need to take the dress into consideration when learning moves. We looked amazing and it was so much fun!!
From Sarah: We had a winter wedding in Stowe, Vermont at the elegant Stowe Mountain Lodge. I would describe the wedding as "Mountain Lodge Elegant." The venue had candles everywhere and stunning view of the slopes on Mount Mansfield. It was a black-tie affair, so the groomsmen wore classic black tuxes and the bridesmaids wore long, black Lazaro Noir gowns. Each gown was slightly different, but all of them had a train that was bustled when we got to the reception. Everything was absolutely stunning!
From Sarah: When it comes to wedding planning, if you aren't having fun, then you are not doing it right. Whether you are DIYing aspects of your day or hiring out all of the details, make sure you enjoy the process. Also, make it yours! We had so many personal details everywhere, and while it was a lot of work, the details are what our guests STILL talk about ! Also, don't listen when people say, 'You don't need that." Make sure you do everything you want – you only get married once!
Congrats Sarah & Thomas!