EJ Wedding Spotlight – Lauren & Claudio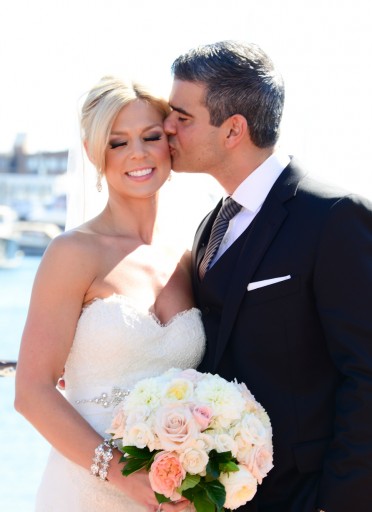 ATTENTION – you are about to see a very gorgeous bride and an insanely chic wedding!
Meet Lauren & Claudio – stunning right! Married this past fall in a Rhode Island ceremony and reception, this couple takes chic and sophisticated to the next level.Wearing a beautiful Liancarlo gown, Lauren was the perfect combination of classic and glamorous for her big day!
Taking place at the gorgeous Belle Mer in Newport, Rhode Island, Lauren and Claudio's wedding day was romantic from start to finish. Not your traditional nautical wedding, this couple created a magical day with stunning views, beautiful flowers and lots of love!
See more of Lauren and Claudio's wedding day below, as well as wedding planning advice from the bride! This beautiful day was captured by Jennifer Neves Photography.
From Lauren: Finding the perfect gown was not easy for me initially. I felt like I needed to try on every style and narrow it down from there. Once I found the shape that fit me best, it was easy. I picked one with vintage lace that resembled the lace on my mother's dress, but had a much different fit than her 1970's gown. I felt gorgeous in it and had the confidence with the help of my friends and stylist.
The best compliment I received when trying on my gown that it was very "me". You want to look beautiful (more beautiful than ever) on your wedding day, but you don't want to pick something that reflects someone else's style. My mom always said "you want the dress to display you, you don't want to display the dress".
From Lauren: There is no better feeling than committing your life to the person you love most, in front of the people that mean the most to you. The love surrounding us all day was surreal – there wasn't a moment we didn't enjoy all day!
From Lauren: Our wedding was held in Newport, R.I., so the nautical theme came with the territory. We added emerald gowns for my bridesmaids, paired with fresh looking flowers and dressed the groomsmen in black, clean cut suits.We took photos at a local mansion before the ceremony and our wedding party was amazed at how gorgeous everything came together.
From Lauren: The cliche answer would be "to enjoy every minute," and I couldn't agree more. It is so easy to get caught up in the small stuff, but it's necessary to step back and remember this is about you and your soon to be husband – everything else is a bonus!
Congrats Lauren & Claudio!