EJ Wedding Spotlight – Megan & Christopher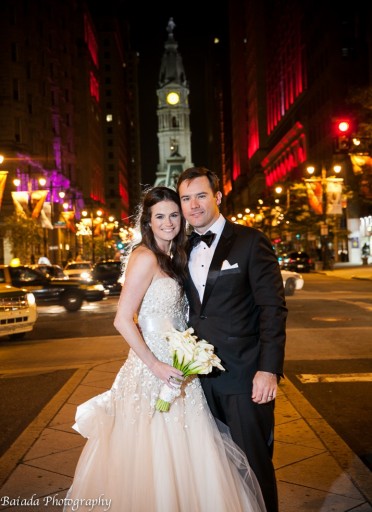 There are so many things about this wedding to love – the simple, modern flowers, gorgeous decor and one seriously stunning bride! EJ bride Megan and her husband Christopher were married at The Westin Philadelphia this past fall, in an intimate ceremony surrounded by family and friends (literally!)
Th day was all about the details – from the beautiful flowers that hung above the ballroom to the perfectly designed tables. Megan wore a gorgeous blush Liancarlo ballgown with just enough sparkle to complete the perfect look for her big day!
See more from Megan and Christopher's wedding day below, as well as wedding planning advice from the bride! Every gorgeous decor detail was designed by Brian Kappra at Evantine Design and the entire day was captured by Baida Photgraphy.
From Megan: I wasn't sure what I was looking for at the beginning of my wedding dress search – I only knew what I didn't want. Once I put on "the" gown, I immediately felt that it was the one – it was like nothing I had seen and, I honestly felt like a bride! My dress was so beautiful I didn't want to take it off!
From Megan: Most importantly, I think brides should find a wedding gown that fits who they are and makes them feel confident. Don't feel pressured or rushed to pick something! I would also suggest taking just one or two people with you until you have paired your choices down (I only took my mom and it was a great decision). It is overwhelming in and of itself, so its important to make sure the choice is yours.
From Megan: Christopher and I wanted our wedding to be simple, but elegant. It was very important to us that the entire day felt intimate and that every one of our guests felt that they were actively participating in our special day. 
From Megan: One of my favorite moments from our wedding day was right before the reception doors were opened, my new husband and I had our first moment to ourselves and were able to take in all that had just happened! I will also always remember was seeing my grandparents enjoy all of the festivities and the looks on their faces are something I will cherish for a long time.
Congrats Megan & Christopher!