EJ Wedding Spotlight – Andrea & Peter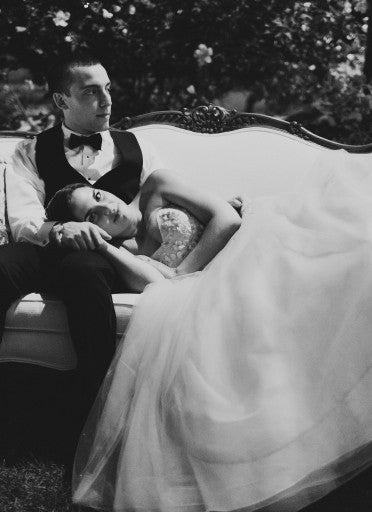 With all of the recent snow, we're starting to feel the winter blues and thought we'd brighten up your day, and ours too, with a gorgeous summer wedding! Like really gorgeous…
EJ bride Andrea and her husband Peter were married at the Cairnwood Estate in Bryn Anthyn, PA back in August. The entire day looks like it was torn from the pages of a magazine and the bride is perfection in her Liancarlo bridal gown. From the uniqueness of the wreaths the bridesmaids wore, to the chic sweetheart table backdrop, this couple didn't overlook any detail!
More photos of Andrea & Peter's big day below, as well as wedding planning advice from the bride! This beautiful wedding was captured by Lauren Fair Photography. Andrea & Peter's wedding was also featured on popular wedding blog Green Wedding Shoes.
From Andrea: I went toward the Philly area for my first ever day of wedding dress shopping with my sister, aunt, and future mother-in-law! Since it was rare to get everyone's schedule to work out to come along, I decided to make 4 bridal appointments for that one day, which turned out being a little crazy, but definitely worth it! Elizabeth Johns was our last stop of the day, and although I had found some contenders at my other appointments, I knew that I just hadn't found "the one" quite yet and had high hopes for the last appointment of the day! The second we walked in the door, I could tell we were definitely going to have a positive experience at Elizabeth Johns. As I was pulling dresses with my consultant, I fell in love with one after another – there were so many amazing options I was almost nervous that I would have a hard time choosing! After trying on quite a few dresses and really liking all of them, I put on a gorgeous blush Liancarlo gown and didn't look back! I quickly knew that it was "the one" because myself and my entire group, including my consultant Marina, were speechless! Then came the tears! I literally felt like I never wanted to take that dress off and it fit all of my requirements: it was unlike anything I've ever seen, it was comfortable and easy to wear, and most importantly, it felt like a true reflection of how I wanted to look on my wedding day!
From Andrea: It's definitely hard to choose just one favorite memory when I have so many amazing memories from that day! If I had to pick, I think I would have to choose our first look! I can't even begin to say how much relief I felt after seeing Peter before our ceremony! Plus, I instantly smile remembering how speechless Peter was when he first saw me in my dress! Immediately after we saw one another, our photographer and videographer gave us 5 minutes of uninterrupted and private time together to just walk off an take everything in before all the craziness began. This turned out to be the most amazing gift! Having a private moment with my future husband to look around and be in the moment turned out to be so important because it was really the only time we got to just be alone together in a quiet spot that whole day! Once everything begins, the day really is over in the blink of an eye, so this was so special!
From Andrea: Peter willingly let me take the wheel when it came to bringing to life our wedding day vision, which I would describe as secret garden meets fairytale romance! I envisioned shades of pinks, deep reds, creams, lush greens, and gold accents. Because I'm the ultimate girly girl, I knew that I wanted to balance out all of the feminine aspects with some touches that would reflect Peter's very manly & outdoorsy personality as well. It turns out that playing up our ying/yang personalities in our design was the best decision because it created a unique look! Overall, we just wanted to create a look and feel that was timeless so that we could look back on our photos for years to come and still feel contentment, and I feel very confident that we achieved that!
From Andrea:I have two pieces of advice that I'd love to pass along to brides currently in the planning process! It may sound cliche, but my first advice is to do your best to not lose sight of what it's all about. It's so easy to get wrapped up in it all – the decor, the favors, the flowers, the food – yes it's all important, but it's not what matters most! After Peter proposed, I promised him that I would NOT become a bridezilla, and although there were some moments where I almost slipped, I did my best to stay focused on the fact that even if I never found the perfect sparkly tablecloth for our sweethearts table, I was still marrying the best guy in the world and that was the best thing!
My second piece of advice is one that was given to us before our wedding that I want to pass along! Don't leave your groom's side! Now that may sound crazy, and sure there are some exceptions (bathroom breaks!), but your guests traveled near and far to witness and celebrate your love for one another! They want to see you together, not doing your own things all night. You're definitely going to be pulled in all different directions during the reception, but be sure you mingle and stick together as much as possible! We knew that we didn't want to get to the end of the night and feel like we didn't even see each other, you definitely won't regret it!
Congrats Andrea & Peter!