EJ Wedding Spotlight – Kristen & Nick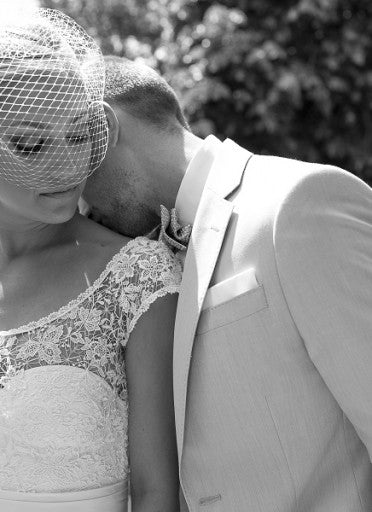 Our EJ Wedding Spotlight is back! What better way to welcome it back than with our gorgeous EJ bride Kristen and her husband Nick! Married in Cape May over the summer, this amazing couple created their unique day by blending together their vintage and beach themes together seamlessly!
The bride wore a stunning Lela Rose gown and accessorized it with a birdcage veil to create her perfect vintage vision. Kristen was the epitome of chic on her big day!
More photos of Kristen & Nick's wedding day below, as well as details and wedding planning advice from the bride! The entire day was captured by Ludwig Araujo Photography.
From Kristen: I had a very specific look I was going for. Our venue (The Southern Mansion) was a Victorian styled bed and breakfast, so I wanted to fit in with the vintage theme. I knew I wanted lace and something with straps and a "modest sexy" look. Something fitted, but not too revealing. I had been to a few places before Elizabeth Johns and tried on multiple dresses, but I didn't get "the feeling" until I tried mine on  It captured everything I was looking for in a dress and I felt beautiful in it. The back was my favorite part of the entire dress. The second I put it on, I told my mom to cancel my other appointments I had later that evening and that was where my search ended.
From Kristen: My favorite memory would be listening to my husbands vows. We decided to write our own and I'm so glad we did! His words were from the heart and extremely touching. My father passed away a few years ago and although it was hard that he was not there that day, my husband's words in regards to my father's presence being there that day with us were heartwarming and comforting. We also took a horse and carriage ride right after the ceremony to the beach where we took our bridal party photos. It was the only moment the entire day/night we were together alone, so we had a few minutes to take in the moment and reflect on what had just happened!  It was a special moment I will never forget.
From Kristen: The look and feel of my wedding was vintage and very classic. I have been to Cape May every summer since I was young, and I was very familiar with The Southern Mansion and its beauty. I did not want to take away from the atmosphere the venue gave off all by itself. My colors were very neutral. The girls dresses were a color called "latte" and the guys were in very light grey suits.  I kept the flowers very neutral as well (some light pink and off whites). Our cake was also very classic and beautiful. It was all white with pearl draping and lace decoration.  I definitely went with the vintage feel to fit in with the venue and it totally paid off.  Everything was beautiful!
From Kristen: I was actually a bride that was not into the whole wedding planning idea. It was not something I dreamed about as a little girl and with my work schedule, it was not something I enjoyed planning in the beginning. In fact, I offered eloping at first!  However, I do not regret having the wedding that we planned. When I look back and reflect on that time now, my advice would be to try and stay as calm and relaxed as possible. I know it seems impossible in the moment, but enjoy the process and give yourself plenty of time – it is never too early to start planning! Make sure you do your research on your vendors to ensure you are choosing good vendors that will help make the planning process go smoothly.  Last of all, try to remember if something isn't "perfect" that day, you will probably be the only person who can tell.  Your guests are there to support the two of you and to have a good time. They won't notice if your flowers weren't as pink as you thought they would be, or whether the table linens were supposed to be ivory instead of white.  Besides, everyone should wish for their marriage to be more beautiful than their wedding, and if you happen to get both then your planning paid off!
Congratulations Kristen & Nick!