Is A Sample Gown For You!?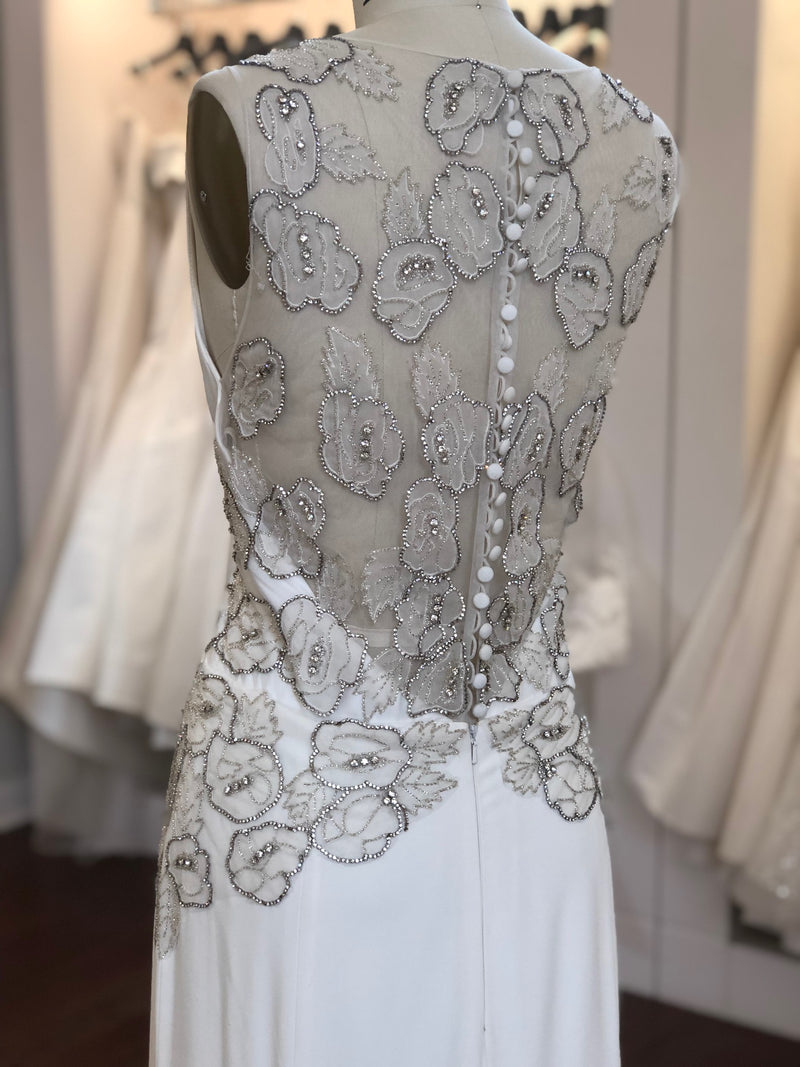 If you are a bride or in the wedding planning process, you have most likely heard about Sample Gowns. If not, here's a quick refresher.
Sample gowns are the gowns that the store buys from the designer to give you something to try on. These are all the gowns you see hanging on our racks that are treated lovingly but tried on by customers everyday. When you want to purchase that dress, we measure you and order you a brand new one that is made to order in your size. Over time, these sample gowns get discontinued or used less, and we sell these gowns for a major discount. These dresses are typically in great condition, and are sold as is. Some stores have "Sample Sales" where all of their samples are sold at once for a huge discount, while others keep some of these samples for brides to see on a case by case basis. 
Pretty recently, we started selling our gorgeous samples online! This is exciting because it means that brides across the country have the same access to our NJ & PA sample gown inventory as our local brides. We wanted to break down the top 3 reasons brides opt to buy a sample and why it is such a great option for some! 
#1- Tight Timeline
If you are planning your wedding on a tight timeline and don't have time to order a gown that can take upwards of 6 months to come in, a sample gown is your answer! These gowns are ready to rock, and though they will of course need alterations, you can take these gowns home the day you say Yes! We also ship out our sample gowns in 48 hours, so depending on where you live, you can have your dress in under a week! We have a wide variety of sample gowns ranging in styles and silhouettes so you never have to sacrifice what you envisioned just because your big day is quickly approaching.
#2- Seeking a certain designer or style. 
The heart wants what it wants! You may absolutely love a specific designer and just know that your gown will one day be from their collection. We have a full stock of popular gowns by high end designers that may fulfill your wish! You may also have seen the perfect dress for you, only to learn that it has been discontinued and is not in production anymore. You may be able to find that style (or one similar) within our sample collection. It is such a gratifying feeling to help a bride locate the exact "One" after seeking out a specific style or designer!
#3- You Love A Deal
One of the best parts about purchasing a sample gown is the price tag. These designer gowns are deeply discounted! Yes, they have been gently tried on, but most of them are in excellent condition and once cleaned and altered, look just like a brand new gown! Nobody would ever know you got your gown at a major discount (unless you share that awesome information). Sample gowns work great for the bride who is trying to keep her gown cost low, but still score a designer label and a super on trend style.
If you are ready to give sample gowns a try - feel free to browse our selection right online or make an appointment with us to try these gowns on! We can't wait to help you find "The One"! 
Let us know what you think! Which sample gown is your favorite?