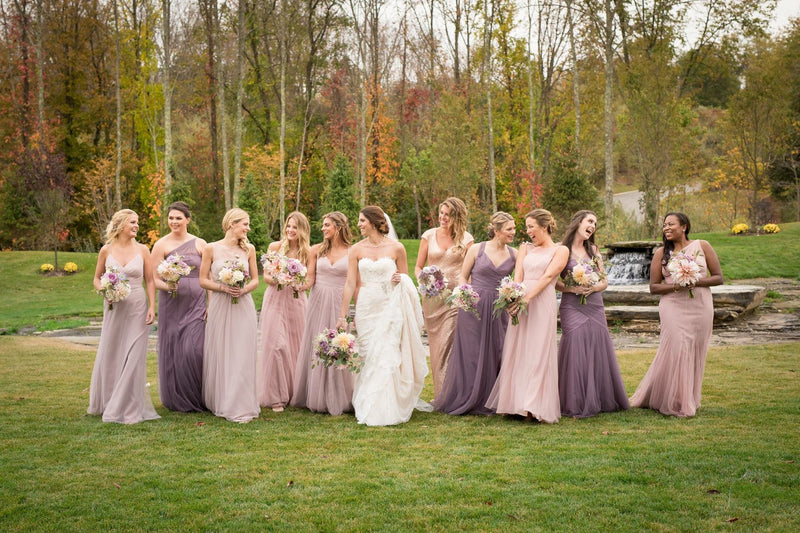 Being a bridesmaid brings up a lot of feelings. So much happiness for your friend or relative, excitement about the impending events, and of course the uncertainty of what you are going to have to wear! We have such an amazing selection of bridesmaid dress lines, and we really pride ourselves on being able to help brides make sure their girls look their absolute best. You can achieve this in so many different ways, but we wanted to outline the top 3 trends we see for bridesmaids and share some photos of our work!
Trend 1: Same color and fabric, different styles. Gowns by Amsale. 
Give your girls a designer (in this case, Amsale), with your color and fabric of choice, and allow them to choose a style that flatters their figure. Want a higher neck, or thicker straps so you can wear a regular bra? Great. Have you been working on your arms and can't wait to show them off in a strapless gown? Perfect. Thinking of getting pregnant in the next couple months and want a style that will allow a bump? No worries, we totally get it (and we are thrilled for you!). This trend makes everyone feel their best and ensures your squad is ready to party in a gown that highlights their assets. You also get uniform looking photos with a little bit of a twist. Win Win!
Trend 2: Mix it up! Gowns by Jenny Yoo.
This option is for someone who has a little more patience and an eye for creating a really gorgeous palette. We work with the bride to create a vision of how everything will look paired together, whether it be a mix of colors AND styles, or a mix of colors, patterns, styles, and fabrics. We can create something for smaller parties, or much larger ones and ensure your vision comes to life! Bonus for your girls that they can either pick (or be assigned) a color, fabric, and style that is unique to their body and taste. You come away with a really beautiful and interesting mix in your photos that really shows off your individuality!
Trend 3: Samesies! Gowns by Hayley Paige Occasions
Tried and true. You pick out out a gown style, color, and fabric that you think suits your entire bridal party and vision and everyone matches. There are so many amazing styles of bridesmaids dresses these days that can really fit great on a lot of body types. By picking a style that you know would suit everyone's needs, you can be sure that everyone will feel comfortable. You end up with bridal party photos that look uniform and classic, and you don't have to worry about who is wearing what style and in what color! 
Some pretty examples of some awesome bridal parties: 
What is your favorite trend? Which way do you like best? Leave your thoughts in the comments below! We love to know what you think!