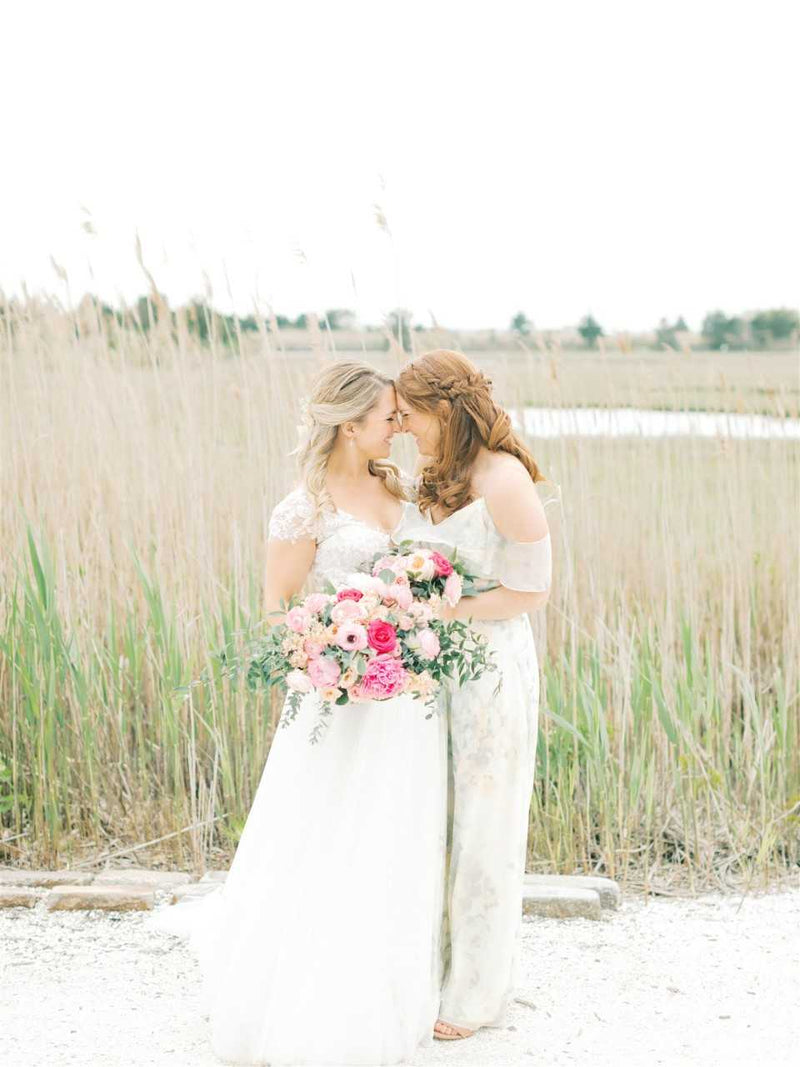 What could be more fun than being engaged and planning a wedding at the same time as your sister? We caught up with Elizabeth Johns Brides & sisters Grace and Haley after their dream weddings to find out a little more about this very situation and how they went about wedding planning and findings their gowns!
(Grace, left & Haley, right)
Grace: Haley and I have always been very close and loved to do everything together. Some of our favorite moments together were our summers at camp in the Ontario wilderness, skiing the slopes of Revelstoke, British Columbia with our partners, and partying our college days away together. But having the opportunity to plan our weddings side by side has to have been the coolest. Brett and I got married in September of 2018 in Algonquin Park, Ontario, Canada. Haley and Scott were married in May of 2019 in Long Beach Island, New Jersey. We spent the majority of 2018 planning and sharing the best kept wedding secrets we could find. Despite our closeness and similarities in taste, our weddings were two completely distinct, special and beautiful days. Mine and Brett's was a nature filled, rustic weekend party. Haley and Scott's day was a colorful, beach side extravaganza. Both filled with laughter, love, and a whole lot of sauvignon blanc. 
Grace: When I got engaged to my boyfriend of 6 years in September, Haley was the first person I wanted to share the news with. We were so excited to start the planning the process. Living in two different countries (US & Canada) made it a bit more difficult, but we made it work! After looking at what felt like a million different dresses in Toronto, I decided to come home and try some dresses on in New Jersey. Our close family friend purchased her dress at Elizabeth Johns and had a great experience so we thought we'd give it a try. We were able to get a last minute appointment and as soon as I put my first dress on, I knew I would be buying my dress there. I tried on a few different dresses and styles, but kept coming back to the Azul by Liancarlo dress that had applique flowers and a flowy skirt. It was ethereal and dreamy, just how my husband and I envisioned our wedding weekend. 
Grace: We got married at the summer camp where we met in Algonquin Park, Ontario. Our guests became campers for the weekend, arriving on Friday night to an epic sunset, a large BBQ spread, and a canoe filled with wine and beer. Their days were filled with canoe races, diving competitions, frisbee rounds, and of course the main event, our wedding. Nature and the outdoors are fundamental components of my relationship with my husband, Brett. My Azul by Liancarlo dress had feelings of fairy magic and natural whimsy. It suited me and our wedding to a tee. 
Haley: It was such an exciting time for everyone when Grace got engaged and we could start planning her wedding! We could finally bring all of our imaginations to life! In the middle of planning for Grace's September 2018 wedding, my boyfriend of 5 years popped the question in February. A proposal on the rooftop of our NYC apartment was followed by a surprise engagement party with all our family and friends, including Grace who flew down from Toronto! The following morning Grace organized a celebratory day filled with a dress appointment and brunch. It was my first time trying on dresses and although we found some beautiful dresses, we always knew I would get my dress at Elizabeth Johns, so we held out. The first dress I tried on at Elizabeth Johns, ended up being the one! The Nouvelle Amsale Danielle dress with it's floral lace bodice and flowing skirt sealed the deal. As a young girl, I always measured my dresses by their "twirlability factor" and my wedding dress was no exception. Let's just say, I was able to light up the dance floor pretty quickly with one simple twirl. The lace flowers were so unique and beautiful and evoked the romantic, simple elegance that we envisioned for our wedding. 
Haley: Scott and I were married in May at Bonnet Island Estate in LBI, NJ. We spent the early days of our relationship down at the shore, which immediately drew us to Bonnet Island. It's a beautiful, romantic, coastal venue with a barn chapel and grand ballroom. My Nouvelle Amsale Danielle dress fit our day, our venue, and most importantly my style, perfectly. 
Haley: In terms of decor, our weddings were quite different. My May beachside wedding featured lots of greenery with bright flowers throughout. Everything was centered around bright pink peonies, one of my favorite flowers, that was luckily right in season. Shades of pinks and oranges were found sprinkled in the bouquets, centerpieces, and our show-stopping chapel archway. Grace's camp wedding was filled with white flowers and greenery to compliment all the evergreen trees and the sparkling lake. Each of Grace's bridesmaids carried floral hoops, rather than a traditional bouquet, which were then used in the backdrop for their head table. We both chose to dress our bridesmaids in Show Me Your Mumu, while our maid of honor (each other) wore printed Jenny Yoo dresses that complemented the other girls. My bridal party wore blush, while Grace's maids were in sage. 
Haley: Each of our weddings suited each of us and our husbands perfectly. There were many differences...countries, flowers, colors, music and most importantly husbands, but that made our whole experience planning our weddings, and shopping for our wedding dresses together at Elizabeth Johns, that much more special! 
We love how both Grace & Haley incorporated personal touches to compliment their weddings and their relationships. We are so thrilled they both had amazing experiences at Elizabeth Johns and found "The One" with us! 
Vendors:
Haley:
Grace:
Dress- Azul by Liancarlo
Photographer: @aceofcupsto 
Planner: @lucymyersevents
Venue: @taylorstattencamps