Floral Advice for the "COVID Bride" From Laura Clare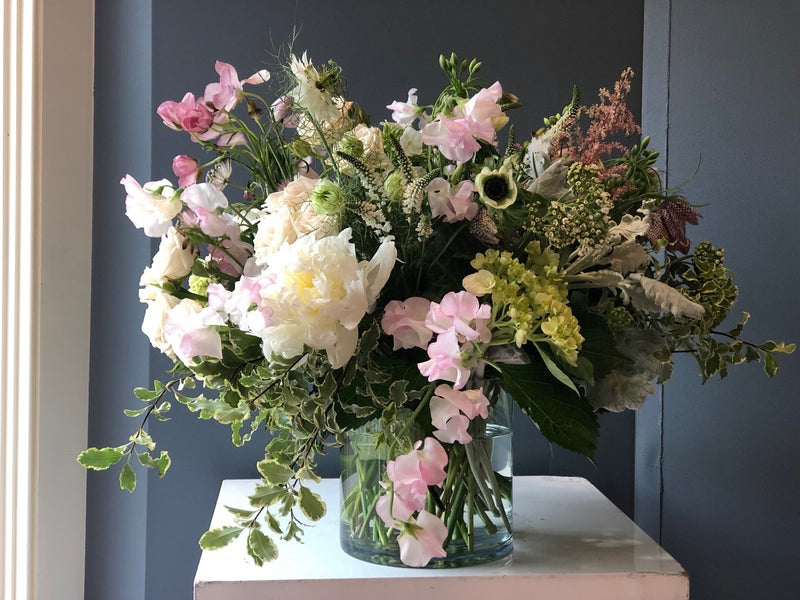 We've teamed up with the wonderful Laura Clare to provide our brides with some tips and tricks for all things floral! Laura Clare is based in Bernardsville, New Jersey and specializes in exquisite arrangements and elegant decor. Known for having an incredible eye for color, her trademark designs are a synthesis of fine European style and American inventiveness.


Well, here we all are: 2020 wedding season, and not an event in site (ok maybe fall if we're lucky!) . It's heartbreaking, to say the least. I can't tell you how many couples I have had to have "that talk" with —and eventually positioned their wedding day. Regardless if you are already engaged and in the midst of planning— or newly engaged and just starting your planning process, here is what I want you all to know:


1. Just breathe - It's cliche now, but we ARE all in this together. The one thing we can count on is that you are in love and nothing will stop that. (Hooray!) Having a party to celebrate it will happen eventually. Just think of this as a great story to tell your kids down the road…


2. Adapt - Several of my couples are eloping on their original date and then planning for their reception another time. If the date is special to you, don't let it stop the actual marriage. Having a reception later is a great option—and sometimes causes a lot less stress on you and your guests who may need to travel and would prefer to celebrate with you in person. Florally speaking, order a bouquet and a boutonniere for the two of you and still make your elopement a memorable day!


3. Choosing your floral/decor partner - Many of you have had dream visions that would tie your floral selection to a certain time of year. The best advice I can give it to hire a great designer who can help you plan for your "vision to come to fruition"—regardless of the season. A good designer will take in all the details and tell you what works well. Sure, peonies may not be readily available in August, but have you tried luscious garden roses? Keep the conversation open and you might just find you get something even better! Besides, when you do eventually have the wedding, you will enjoy seeing the seasonal blooms each year—and remind you of this magical time every anniversary


4. Be realistic - Many couples I know have already moved their new wedding dates to 2021. I am also still booking many new brides for the same year. That being said, you have to be flexible and realistic that some of your vendors may need to change—or you may need to be open to a different day (like a thursday or a monday) wedding date. If you truly want to use your floral or other vendors, you might need to work around their schedules and get what you want. Everyone will be feeling this for the next year or so. As a vendor, I know we are doing whatever we can to accommodate everyone and the change in schedules. It might be a little coordination, but in the end you will get a team that will make your wedding day beautiful!


And specifically speaking of flowers, here are some my top picks for each month (besides the predictable hydrangea and roses):


January: anemones, silver brunia


February: Quince branches, sweet peas


March: ranunculas, poppies


April: Frilly tulips, hellebore , frittilaria, Cherry branches


May: peonies, lily of the valley, butterfly ranunculus, lilac


June: Astillbe, clematis


July: Campanula, veronica, Eremurus


August: Asclepia (butterfly weed), Nigella (Love in a Mist), teddy bear sunflowers


September: blushing bride protea, dinner plate dahlias, bachelor's buttons


October: Cockscomb (velvet brains), asclepia pods, dill, textural grasses


November: scabiosa, privet and ligustrum berries, smokebush


December: unique amaryllis, king protea


Remember above all else, that weddings are a celebration of your union. However it may come to be, it should be an enjoyable event-no matter how big or small or when or how. Be sure to stop and smell the roses!
-Laura
 
Check out Laura Clare's website and Instagram!
https://lauraclaredesign.com/ & @lauraclaredesign