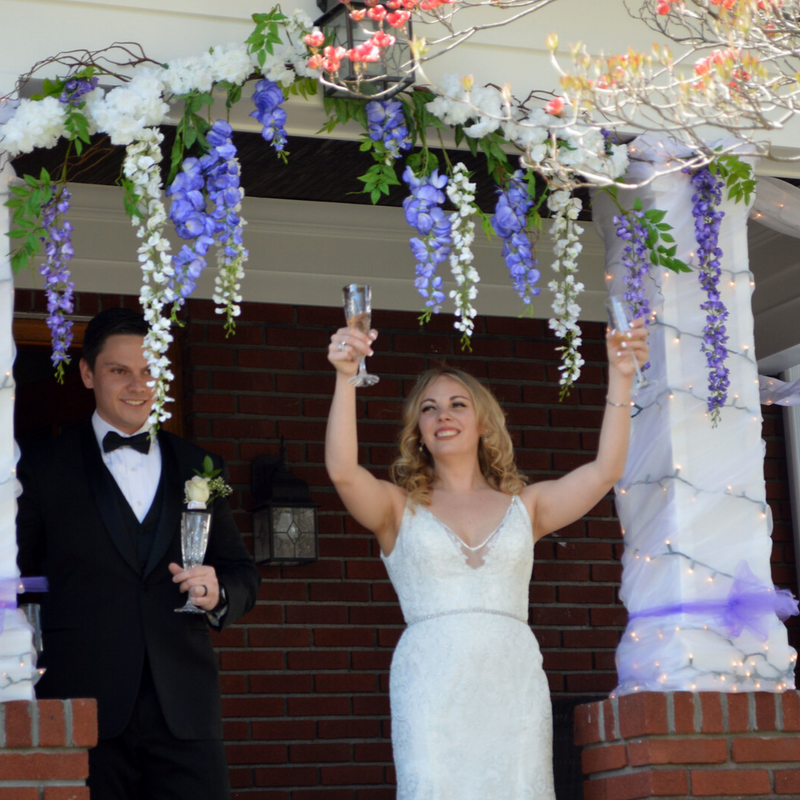 Some couples have made the tough decision to postpone their nuptials. Some couples have had small ceremonies with their friends and families watching remotely as they said, "I do." If you and your future hubby are thinking of getting married at home, we say, "why
knot
!"
Our bride Erika planned on getting married on April 11, 2020 – and that's just what she did! For all the brides who are disappointed about having to move or cancel their wedding (and rightfully so) we hope Erika's story inspires you to think outside of the box and make the best of a less than ideal situation. Your wedding is ultimately a celebration of love and commitment to each other... and that can be celebrated from anywhere and at anytime.
"The back story: Less than 4 weeks before the wedding we got the call the wedding was being postponed due to COVID-19. We picked another date one year to the day 4/11/21 (we had a Saturday night, now it will be a Sunday afternoon. Best date we could come up with). Postponed all our vendors, contacted all the guest by text, needless to say that first day was very busy.
We opted instead of letting the wedding day go by, there would still be a wedding, which would be held at our home. We paired down our list to bridal party and immediate family, ordered a tent for the back yard, and all that would be needed to host 40 people at our home. Which included a different DJ and photographer.
As we got closer to the date, we realized we would no longer be able to have 40 people at our home. It was going to change again. Vendors were cancelled and this time we have a total of 8 people. Bride and Groom, officiant, Parents of the Bride, Mother of the Groom, Best man and the Bride's brother who stood in as her witness (very sweet).
We turned our living room into the "chapel" the bride and groom had a live stream of the wedding so all could see the very intimate ceremony. Neighbors and family gathered safely outside so when the officiant pronounced them husband and wife you heard the roar of the crowd from outside because they were all watching on their phones. In the words of the bride "It was awesome"!
The happy couple came out to see everyone and then went on a pre-planned police escorted motorcade around the two local towns to pass most of the bridal party since they could not be there at the actual ceremony. The bride and groom were cheered on by many of the guest who were planning to be at the actual wedding that day. They had signs, balloons, rice, and champagne.
We settled back at home for dinner that was delivered from a local restaurant as well as a wedding cake from a local bakery (top of the cake being saved for next year).
It was nothing we planned, but we would have changed nothing about the day it turned out simply amazing and they are able to start their lives with a very memorable wedding day."
We thank Erika and her mom, Alison, for sharing their story with us!
Erika was beautiful in her Hayley Paige
Haruki
gown and Elizabeth Johns
Aubrey
veil!