Anne Barge Health Care Heroes Program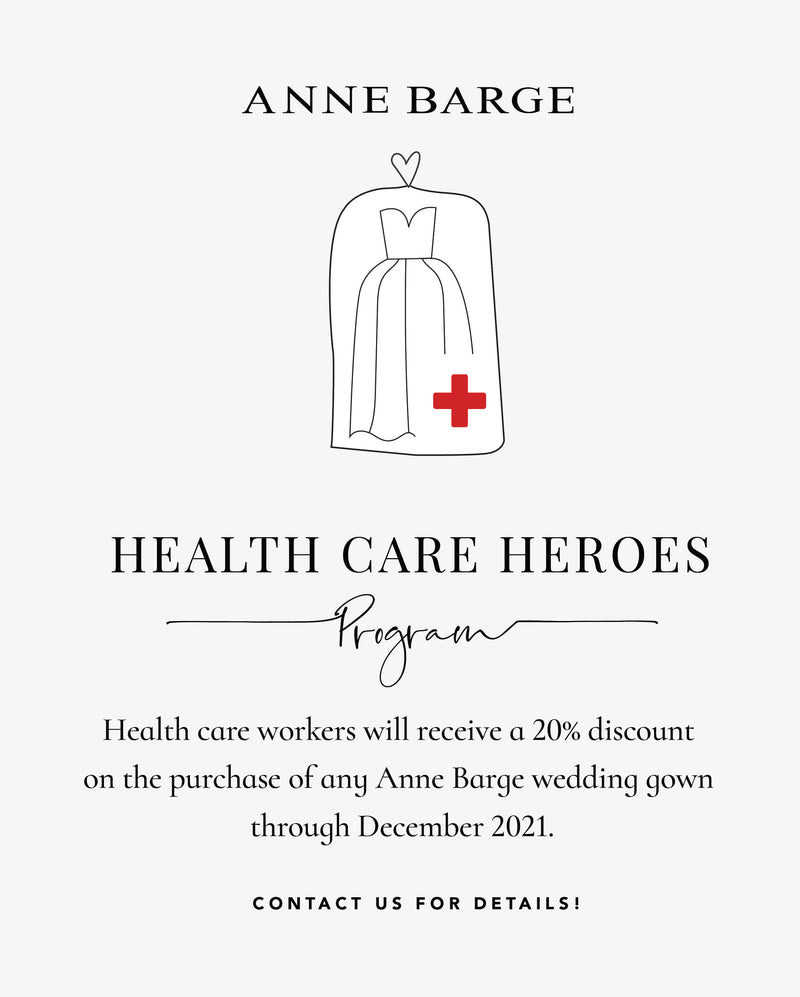 We are so grateful for the dedicated healthcare workers who continue every day to fight on the frontlines against COVID-19. In appreciation for their tireless efforts, we are pleased to partner with Anne Barge in their Health Care Heroes Program which gives healthcare workers a 20% discount on the purchase of any Anne Barge wedding gown beginning now through December 31, 2021!
We want to tell you a little more about this incredible program and the amazing designer!



"This offer applies to the health care professionals whose wedding dress shopping experience has been delayed because of mandated store closures and frontline work commitments happening now directly due to COVID-19. The extension of this program through 2021 ensures that all the healthcare workers who may have been affected with postponed engagements or weddings will have a reasonable time frame to find their wedding dress. Anne Barge wants the wedding gown shopping experience for all health care workers to be a memorable moment shared with their loved ones!" – Anne Barge



We couldn't agree more! At Elizabeth Johns, we want our brides to have an unforgettable experience, and getting your wedding gown is just the beginning of your beautiful wedding journey! There is a lot of unknown right now, but we know this will pass and we love that Anne Barge is extending this program through 2021 so all of our health heroes can find their dream dress!



Anne Barge was founded in 1999 and is known for their classic styles that are truly timeless! Based in Atlanta Georgia, Anne Barge combines timeless silhouettes with modern details. The Blue Willow collection embodies the couture aesthetic and same attention to detail of the Anne Barge collection at a moderate price point. This program applies to new wedding gown purchases in both the Anne Barge and Blue Willow collection! There truly is something for everyone and we know you will be just as obsessed as we are with Anne Barge and their gorgeous gowns!