EJ Wedding Spotlight – Stephanie & Andrew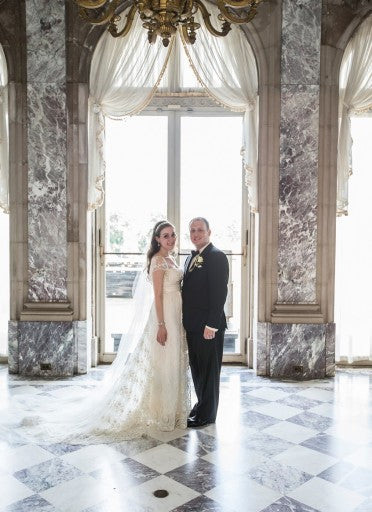 This week's EJ Wedding Spotlight bride and groom are Stephanie and Andrew who were married last summer in a gorgeous ceremony and reception that truly mirrored the couples fun personalities! Wanting their wedding to be the perfect mix of relaxed and traditional with a little bit of vintage elegance and a hint of garden party, they created an amazing day!
Bride Stephanie chose a beautiful Elie Saab gown that had classic lace and unique details throughout. The bride looked absolutely gorgeous from head to toe – choosing a gown and accessories that truly fit her vision!
More photos of Stephanie and Andrew's big day below, as well as some great advice from the bride! The entire day was captured by Stephanie Jones Photography.
From Stephanie: I went to so many stores before I found my gown and tried on countless dresses.  I knew from day one that I wanted a lace, romantic gown, but the stores I visited just didn't have any dresses that fit the bill.  When I went with my mom and sister to Elizabeth Johns, I was shocked that there were so many gorgeous gowns that were exactly what I was looking for.  Before my appointment began, I saw an Elie Saab gown on the rack and called my mom over – we both knew I had to try it on!  The dress was above our original budget but we didn't care because we both knew this was it and we loved that EJ let us browse! Once I put the dress on, our feelings were confirmed and I knew it was the dress I had been looking for all along (I knew there was a reason I kept on shopping)!  It was perfect – the lace, the sleeves, and vintage look – I just didn't want to ever take it off!  We loved EJ so much that I also bought my headband and all accessories at a Maria Elena trunk show and my mom bought her Pronovias MOB dress there.
From Stephanie: The 15 months Andrew and I spent planning our wedding went so fast that when the big day finally arrived it was so surreal!  My favorite moment of the day was walking down the aisle with my dad towards Andrew for our ceremony.  Until that moment the whole day didn't seem completely "real."  After spending all morning getting ready it was finally getting to see Andrew and taking his hand at the end of the aisle that made me so much more excited for the rest of our day.
From Stephanie: My advice to brides is to focus on what truly matters: you're marrying your partner and everything else is extra.  As for the actual planning, focus on the few key things that matter most to you (whether it be food, music, décor, the dress, flowers etc.) and put the majority of your budget there.  Everything else, don't sweat it!  Good food, good music, and an open bar makes a happy wedding guest!
Congrats Stephanie & Andrew!!!