Coming to EJ in Fall 2014: Amsale Spring 2015 Bridal Gowns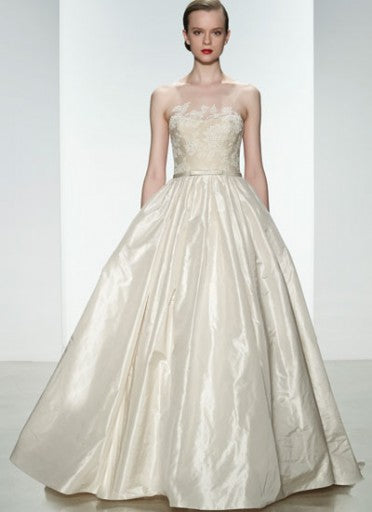 very designer has their signature—a style that's distinctly and recognizably their own. Mine is "understated, confident elegance." – Amsale
If you "liked" us on Facebook, you already know….. Amsale bridal gowns are coming to both Elizabeth Johns salons!! We're thrilled to announce that beginning this fall, Amsale's Spring 2015 bridal line, as well as other elegant gowns from the designer will be available at both the Morristown, NJ and Ardmore, PA locations. These bridal gowns are perfect for the bride looking to make a statement with gorgeous construction, simple details and effortless elegance.
Based in New York City, Amsale is a world renowned designer known for her use of gorgeous textiles, exquisite fabrication and one-of-a-kind handwork, which showcases her signature elegant, yet simplistic style. Worn by various celebrities including Halle Berry and Julia Roberts, Amsale creates stunning silhouettes made for the chic and sophisticated bride.
To celebrate our new designer, Elizabeth Johns Ardmore is hosting a Spring 2015 Amsale preview and trunk show from Friday, July 25, 2014 – Saturday, August 2, 2014. During this exclusive preview, Elizabeth Johns and Amsale will be offering brides who purchase an Amsale gown a complimentary veil, as well as special pricing and considerations for that week only.
Check out some of her stunning and most recent gown designs below!