Summer Bridesmaids Trends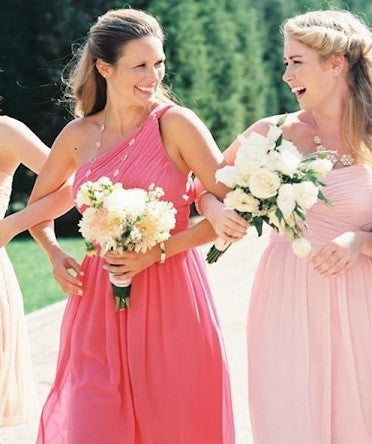 It can be hard enough choosing your bridesmaids dresses, let alone thinking about how you will accessorize them. Fortunately, brides today have a variety of places to look for inspiration – Pinterest, fashion blogs, Style Me Pretty and their bridal store!
With bridesmaids trends popping up around the country, we thought we'd share some of our favorites! From flowers to glitter, there are so many ways to make the most important ladies in your life shine on your big day!
Accessorize with Flowers (and we're not talking bouquets….)
Style Me Pretty recently posted inspiration for fresh flower hairstyles and they are gorgeous! Flowers are a great way to create a romantic feel to a wedding and step away from just the classic up-do. By incorporating the two, you create a unique look for your bridesmaids that is all your own!
Statement Jewelry
Statement jewelry has made a comeback in recent years and is the perfect way to transform a dress from classic to fashion forward. Many brides opt to gift their bridesmaids with their wedding day jewelry as a "thank you" for being in their bridal party. Statement jewelry is a great option if you want to give them something they'll wear beyond your wedding day. While the glitz and glam still provides a sophisticated look, a bold necklace on a strapless neckline can be the perfect addition to a gorgeous summer wedding.
Mixing Up Color Palettes and Dress Styles
We're seeing more and more brides gravitate toward having their "girls" wear dresses in a variety of colors. With the popularity of pastels recently, brides are opting to have their bridesmaids choose from a color palette rather than one specific color. Brides are also opting to have their bridesmaids choose different dress styles in the same color. Either way, these trends provide bridesmaids with a little individuality and the option to infuse their personal style into their dress!
Have a favorite summer bridesmaid trend or one you incorporated into your own wedding? Leave us a comment or e-mail us a photo of your wedding day for a future blog post!