Tips to finding your dream dress!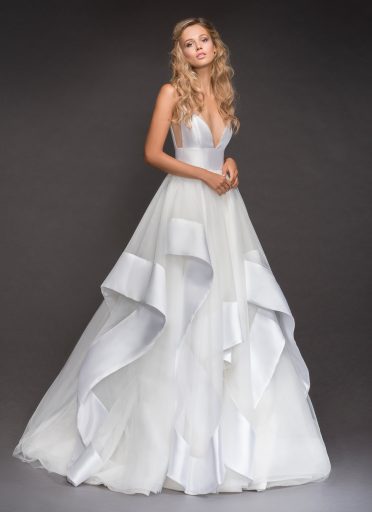 You found the perfect partner, had an amazing proposal, celebrated with champagne, and now it's time to dress shop! While it may seem overwhelming, here are some helpful tips to make the process not only special, but fun!
First, you will want to make sure you have a date and venue secured. This is so helpful in forming your ideas about what kind of gown you may want. It also helps your bridal consultant visualize what type of wedding you are having, which can ultimately help them guide you to the right dress! Second, you want to give yourself enough time! Most dresses are made to order and take anywhere from 6-8 months to come in. You should start shopping 10 months to 1 year ahead of your wedding to ensure you have enough time for the dress to arrive and to start your alterations. Designers can accommodate tighter deadlines but usually charge a rush fee, so it's best to play it safe and leave enough time!
Next, your consultant should work closely with you, asking tons of questions about your ceremony, reception, vibe, and budget. Being open and honest with your consultant is super important so they can narrow gowns down and find the perfect one for you! There are dresses at every price point, so feel confident that you can find your dream dress within the budget you have set aside. Also remember to leave room in the budget for alterations when the dress comes in. If this is a concern, make sure your consultant knows before getting started so they can work that into the bigger picture.
Now it's time to shop! Bringing tons of your best girlfriends may sound like a blast, but it can sometimes lead to confusing the bride with many varied opinions. You should bring a couple people closest to you that know your style and whose opinions you value. A bridal gown is the most self expressive garment anyone will ever purchase – make sure it truly reflects your own personal style! Remember to come with any photos of dresses you are loving, favorites you have previously tried on to show your consultant, and an an open mind! Feel free to wear any undergarments that you feel comfortable in, the most common being shapewear and a strapless bra.
Once you start trying dresses, relax and have fun with it! Trust that your consultant has your best interest at heart. Be open to trying things on and give honest feedback to the consultant so they can cater the appointment to what you love, or switch it up if you aren't loving what you thought you would! When you get the feeling that you never want to take a dress off, you know you have found "the one"! It is very common that a bride finds her dress at her first appointment so come prepared to say "Yes" to the dress! Trust your gut, have a quick cry, and then pop the champagne to celebrate!