Stress-Free Wedding Dress Shopping Tips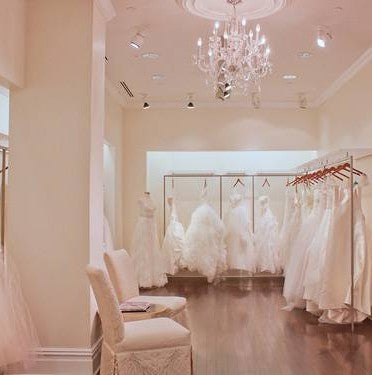 We're back! Elizabeth Johns is thrilled to announce the re-launch of its blog and looks forward to posting on a much more frequent basis, bringing information and having the conversations that brides want. Stay tuned for some exciting guest blog posts, designer features, bridal fashion spotlights and so much more!
Because we are all about bridal fashion, we thought an important topic to re-launch the Elizabeth Johns blog would be a post on how to make wedding gown shopping less stressful and the day you've always dreamed about!
Do Your Homework: When you head to your bridal gown appointments, you'll want to show up prepared! It's your consultant's job to help you find the dress of your dreams, but you'll want to walk into your appointment with some thoughts and ideas of how you want to look on your wedding day. Pinterest, ElizabethJohns.com, magazines, The Knot and designer websites are great resources – print out pictures or bring in your Pinterest board of the dresses you love the most.
The Elizabeth Johns website also offers its "My Closet" feature, which allows visitors to sign-up for an account and create a place to house all of the designs they've selected from the Elizabeth Johns website. Just visit the "My Closet" feature at the top of the website to get started!
Limit Your Entourage: Wedding dress shopping is no doubt one of the most exciting days during the wedding planning process. While you'll want to share the day you find your dress with the people you care about the most, you'll want to limit the size of your party. Ideally, brides should bring no more than 3 or 4 in their entourage. This will help limit opinions and let your vision shine!
Discuss What You'd Like to Spend Ahead of Time: Before heading out to find the gown of your dreams, you'll want to decide on a price point you or the person purchasing your gown is comfortable with. Make sure to take into account alterations fees and accessories when creating your budget!
Think "Outside of the Box": Most likely the wedding dresses you try on won't fit perfectly right away, but with great alterations and creative thinking, it can be quickly transformed into the dress you envisioned.
Relax: Bridal gown shopping is meant to be one of the most exciting days of a bride's life! This is a time to enjoy with family and friends who are there to share this special day with you, not a time for stress and tears. It's important to head out on your bridal gown excursion relaxed and ready for the day! The bridal store will help you create or realize your vision so sit back, relax and enjoy the beautiful gowns!