EJ Wedding Spotlight – Kim & Jared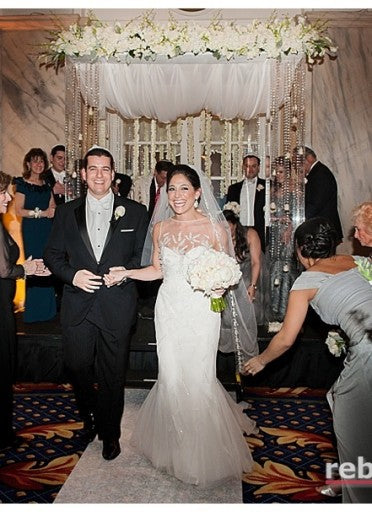 We love our Elizabeth Johns brides and want to share their beautiful bridal gowns and wedding days with you! Every week, we'll feature a new Elizabeth Johns bride in our EJ Wedding Spotlight blog posts.
Kicking off the "EJ Wedding Spotlight" posts are fabulous couple Kim & Jared, who were married in April. Kim visited our Ardmore location to find the dress of her dreams – a gorgeous Reem Acra! They held their ceremony and reception at the beautiful Ritz Carlton Philadelphia and we have just one word to describe it…..AMAZING! This stunning wedding was captured by Rebecca Barger Photography(Philadelphia).
See wedding photos below, as well as wedding day insight from the bride!
From Kim: When I began to shop for my wedding gown, I made the conscious effort to go in with a completely open mind. I was willing to try on anything and everything…and basically did! The gown I ultimately ended up choosing was the second one I tried on. I had never seen anything like it and every time I put it on I liked it more and more. This dress became the barometer against which I measured all other dresses. Eventually, it became clear that not only was this the gown for me, but that nothing else even came close. I felt special, unique and beautiful in this dress. I liked that it was different and that I had never seen anyone else wear anything like it. As someone who loves sparkles, I was drawn to the delicate beading and flowers. The illusion neckline and the illusion open back with beading were both so special. I also loved the cut of the dress (sweetheart neckline, fitted bodice and mermaid bottom.) As someone on the smaller side, it was important for me to wear a dress that did not overwhelm my frame. The icing on the cake was that my dress was light as a feather. I knew I would be able to wear it all day and night and dance without feeling weighed down.
From Kim: I have three favorite wedding day memories. The first was when my groom and I saw each other on the day of the wedding for the very first time. Seeing Jared in his tuxedo waiting for me made all of my anxieties and worries disappear. Nothing else mattered but knowing that he and I were about to become husband and wife. I paid close attention to his reaction when he saw me for the first time in my wedding gown and the look on his face was priceless. We were both filled with so much love, excitement and happiness. My second favorite memory happened during our reception. Jared and I took a moment to look around the beautiful room at all of our friends and family. Seeing so many important people from both of our lives dancing and celebrating with us was just so special. There was so much love in that room and everyone who was there was so meaningful to each of us. Lastly, at about 2:00 AM, after we had danced and partied all night, late night food was brought out. All of our black tie clad guests in their (now wrinkled) gowns and tuxedos were wolfing down cheesesteaks and fries. It was fantastic!
From Kim: Our wedding day was warm and intimate while also formal and fancy. We knew that black tie affairs could sometimes feel stuffy and we wanted to avoid this at all costs. Our hope was to create a ballroom that felt inviting and magical and we spent a lot of time talking with our decorator about how to achieve that vibe. We used the enormous ceiling chandelier (which is the centerpiece of the Ritz ballroom) as our starting point and built off of that. We had lots of candles, floating flowers and crystal. The room was lit with soft amber lighting to help the space feel even more inviting. Our flowers were a variety of whites, ivories, blushes and grays. These flowers complimented my bridesmaids who wore gray dresses of their choosing. When I walked into the ballroom for the very first time, I felt like I was dreaming. The room was so beautiful – almost magical. Having our wedding in Philadelphia where we both met and where I grew up added to the overall feel of our wedding. Taking photos in front of the backdrop of City Hall in the place where we fell in love was just perfect.
Congrats Kim & Jared!