Liz Loves: Cambridge Street Papers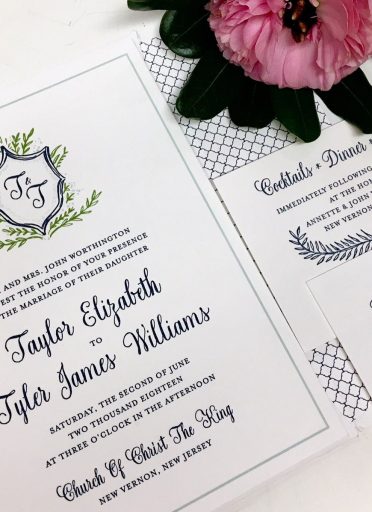 Cambridge Street Papers is the cutest little paper shop in Madison, NJ.  They specialize in creating unique, beautiful invitations for weddings – so who better to talk to than the owner, Nina about the invitation process! She says "The process of creating beautiful things has always been my passion, so it is not surprising that I was drawn to owning a stationery and gift shop that specializes in weddings.  My career began in advertising, meandered through interior design, and finally landed me here in 2012.  The continuous thread has  been the perfect "marriage" of business and design.  Add to the mix that I am a true romantic who is just a bit obsessed with weddings, and voila…the magic of Cambridge Street Papers!" Here are some of the top questions (and helpful answers!) she gets, as well as a sampling of their beautiful work!
When should save the dates and invitations be mailed?
Save the dates should be mailed 7-8 months prior to your wedding.  If you are having a destination wedding or getting married on a holiday weekend, 8-10 months ahead is preferable.
Do my save the dates and invitations need to match?
There is no right or wrong here…the choice is all yours and there are so many fabulous options from which to choose!  You can use a photo from your engagement shoot, have a crest or monogrammed designed, or choose something simple and classic.  The important thing to remember is that your save the date is a first-peek at your wedding style, so if you are planning on a formal wedding, you want the save the date to be more formal as well.
How can I prepare for my invitation appointment?
Know how many invitations you will need, and have a budget in mind.  We love when customers share pictures of invitations you've pinned to your Pinterest page!  That helps us get to know their style.  You'll also want to have a basic idea of how you would like your invitation worded.  That can be confusing at times, but that's why we're here!
Speaking of budget…how much do wedding invitations cost?
This is not a one-size-fits-all answer.  We have a huge selection of invitations at all price points.  For a complete suite of 100 invitations, the price could range from $500 up to $6,000.  The majority of our customers spend between $1000 and $3000.
How do I know how much postage to put on my invitations?
It is VERY important that you take you complete invitation to the post office to have it weighed and measured.  Most invitations need a .71 cent stamp, but others need more postage if they are extra-large or have several pieces.  When you are ready to mail them out, you should take them to a post office that will hand-cancel them, or allow you to do so yourself.
See Nina at Cambridge Street Papers and let her help your vision come to life!