EJ Wedding Spotlight – Talia & Dennis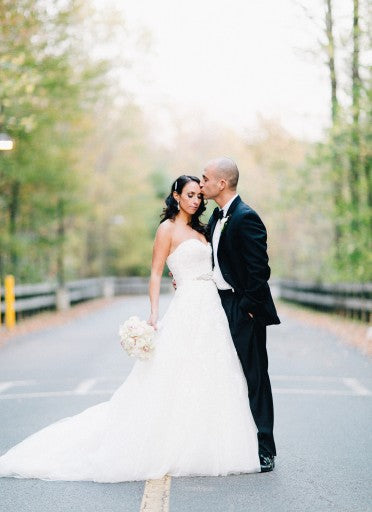 Every now and then, a bride will walk into our salon knowing exactly what she wants and can articulate her vision perfectly! From the second Talia stepped into our Morristown, NJ salon, she knew she wanted a ballgown — a fabulous, very chic, completely stunning ballgown! And looking absolutely flawless, Talia walked down the aisle in a beautiful Pronovias gown!
Talia and Dennis were married at Temple Emanu-El in Closter, NJ on a quintessential fall afternoon. Choosing a neutral color palette with gorgeous shades of pink, champagne and ivory, they created a magical feel for their big day.
More photos of Talia & Dennis's wedding below, as well as wedding day planning advice from the bride. Every beautiful moment was captured by Joseph Lin Photography.
From Talia: I actually found my wedding dress on the first day of dress shopping. My sister was coming to New Jersey in two weeks for Thanksgiving, and I wanted to narrow down a few bridal salons to visit while she was in town. My mom and I went to Elizabeth Johns first. I knew the style of dress I wanted, and what would work for my body type. I wanted the classic, princess feel with the tulle and lace, but I also wanted a little bit of sparkle. I tried on about 10-12 dresses, and kept going back to the second dress I tried on. We FaceTimed with my sister who lives in DC for that final opinion and she agreed that it was my dress. It made me feel so amazingly beautiful, that I knew it was the one. I still get excited thinking about my wedding dress!
From Talia: I have so many amazing memories from my wedding day. The whole day and evening felt like a dream. I woke up to a perfect, sunny 65 degree fall day, and spent the day getting ready with my favorite ladies.
My favorite memory of the wedding was meeting Dennis down the aisle. He had tears in his eyes, and couldn't stop smiling at me. I felt like it was just the two of us in the room.
From Talia: I wanted my wedding to be classic, chic and romantic. I absolutely love candles and requested to have them everywhere to warm up the venue and really make it feel romantic.
Our wedding was in October, which is Breast Cancer Awareness month. My mom is a breast cancer survivor, so I wanted to incorporate this into the wedding theme. I had soft pink and white flowers, and in lieu of gifts for our guests, we donated to the Susan G. Komen foundation in their honor, which is a charity that is very dear to my family's heart.
From Talia: I loved everything about planning my wedding. One aspect of my job is event planning, so this is something I enjoy doing, and have done many times before. This time, however, it was different because I got to choose everything based on what I wanted.
Every bride should enjoy planning and not consider it a job, otherwise, it will become very stressful. Think of it as a fun activity and break it up into different portions. Start with the venue and date first, and then look for the perfect dress. These elements can change the feel and theme of your wedding, so you should lay the ground-work around the time of year you are getting married, along with the look and feel of the venue and dress. You get to plan your wedding day and make it as perfect as you want it to be! Have fun with it, and don't stress about the little things!
Congrats Talia & Dennis!