Elizabeth Johns Bridal Stylist Sarah's Dream Wedding at Perona Farms!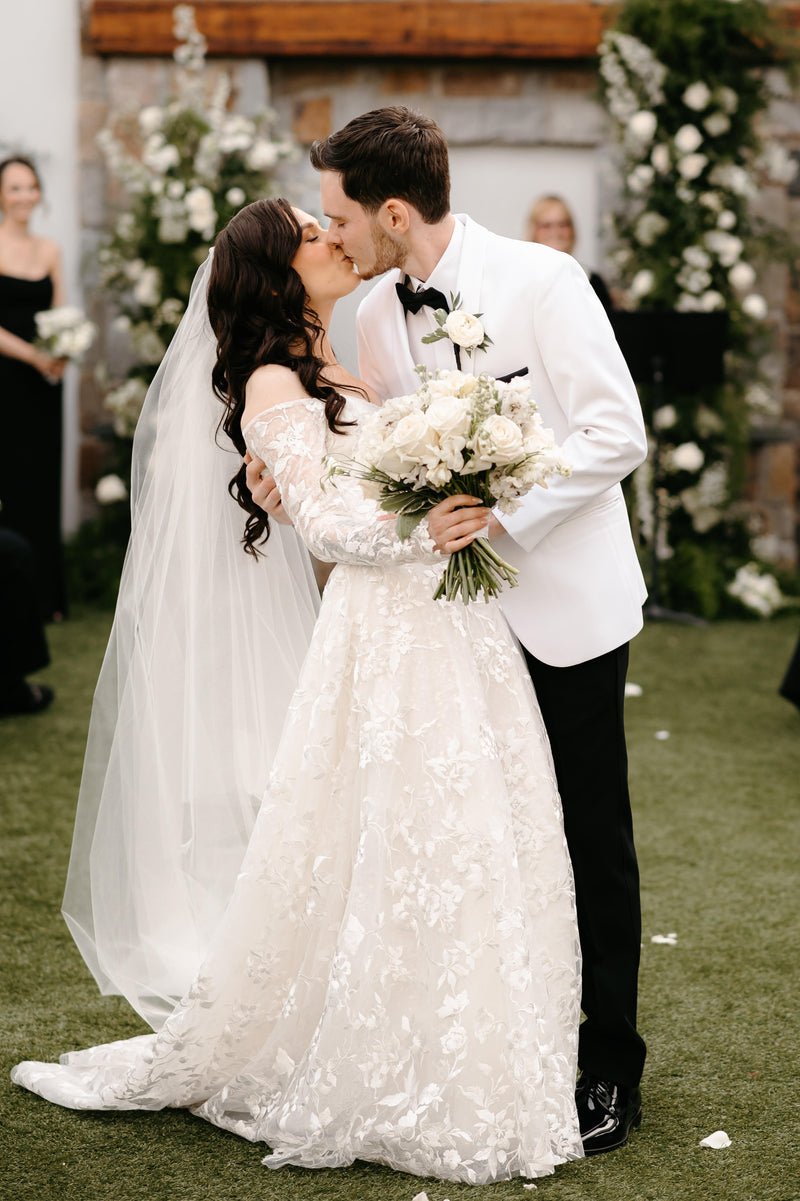 Love is a beautiful journey, and when two hearts come together in matrimony, it's a cause for celebration, especially when its one of our own! At Perona Farms, amidst picturesque landscapes and heartfelt moments, our Morristown stylist Sarah recently tied the knot, looking absolutely radiant in a stunning custom gown from Kiera Elise Collection for Elizabeth Johns.
Perona Farms, known for its enchanting countryside charm, was the idyllic backdrop for Sarah's wedding day. Nestled amidst sprawling acres of lush greenery and captivating gardens, this renowned wedding venue set the stage for a truly unforgettable celebration. The rustic elegance and warm ambiance of Perona Farms perfectly complemented the love story unfolding before the eyes of family and friends.
Every bride dreams of finding the dress that encapsulates her unique style and personality, and Sarah's vision came to life through Kiera Elise Collection at Elizabeth Johns Bridal. Known for its unparalleled craftsmanship and attention to detail, the Kiera Elise Collection offers timeless designs that embrace a bride's individuality.
Sarah's custom gown was a true masterpiece. Designed with meticulous care, the dress seamlessly blended romantic elements with modern sophistication. The intricate layered lace detailing added a touch of ethereal charm, while the long sleeves added a level of elegance reminiscent of royal weddings. The soft v-neckline and and low back and covered buttons added the perfect finishing touches, leaving everyone in awe as she walked down the aisle.
Elizabeth Johns Bridal, renowned for its exceptional service and curated selection of designer gowns, played an integral role in bringing Sarah's bridal vision to life. Sarah was able to work closely with the designer who was able to guide her through the custom process.
Surrounded by loved ones, Sarah and her partner Chris exchanged vows filled with love and promises of a lifetime together. The joy and happiness radiated from the couple, creating an atmosphere of pure bliss. Sarah's dress from Kiera Elise Collection was not only a reflection of her personal style, but it also symbolized the love and commitment she and her partner shared.
Photography: Lisa Blanche Photography