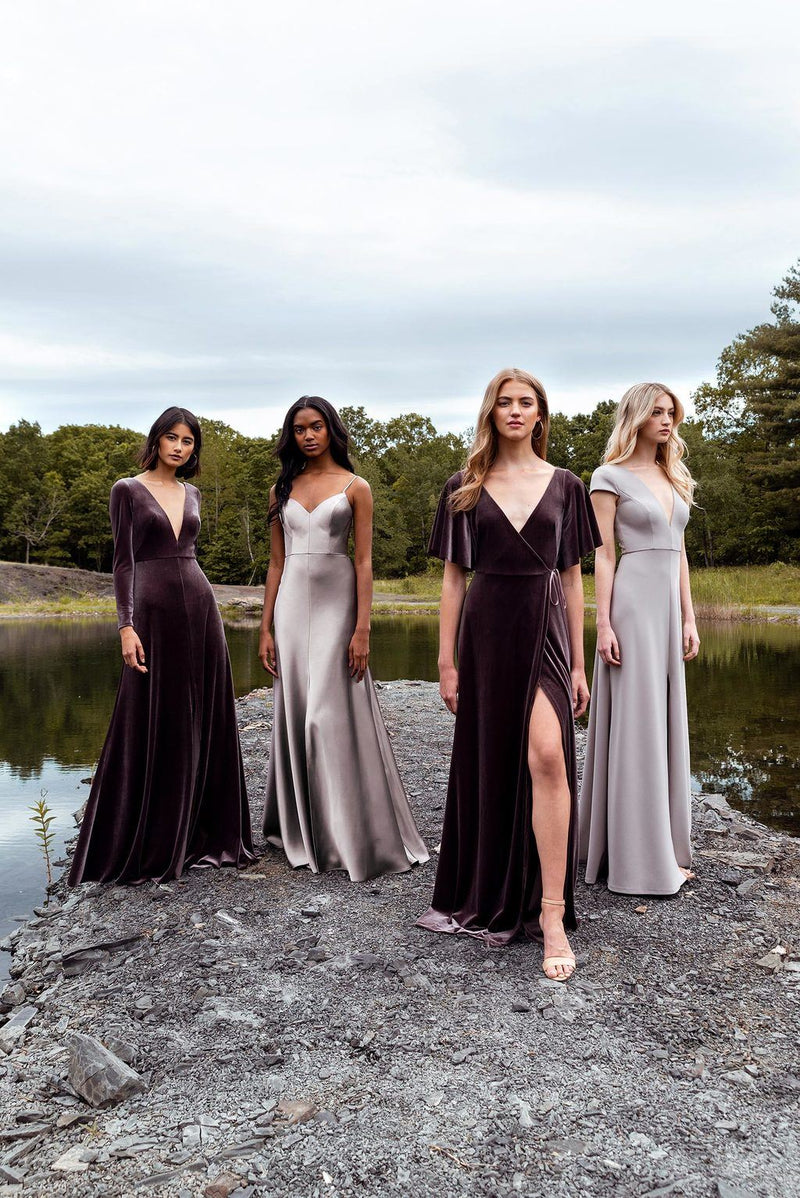 Looking to start nailing down bridesmaid options for your spring or summer wedding? Fall is the time! There's no need to be dreading picking bridesmaid dresses - its 2019 - there are so many awesome styles and fabrics to choose from that flatter your super petite friend, as well as your plus size bestie, and of course your pregnant sister in law! Let's unpack some of the newest styles to hit EJ!
The Velvet Collection from Jenny Yoo
Ok we are obsessing over these dresses! They are super soft velvet, in such a cool range of incredibly rich colors, and feel amazing on the skin. We love that the wrap dresses work well and are flattering for maternity and plus size, plus we are so grateful for the sleeve offerings on some of the dresses! These dresses pair really well in a palate with other dresses, such as the shiner crepe satin gowns, or in an all velvet party.
Amsale Bridesmaids
The Amsale bridesmaid collection is always a classic - meaning no, you won't look back at your photos and feel like your bridesmaids look totally dated. Their crepe dresses though are having a MOMENT, and we are living for the slightly simpler lines (think 90s vibes with a modern twist) and the super chic material that is so comfortable and easy to move in. Amsale bridesmaids gowns are offered in really beautiful colors as well, making them a popular choice for a lot of parties. 
Hayley Paige Occasions
Designed by the ever popular Hayley Paige, these bridesmaid dresses have a touch of flair and whimsey. Their latest metallic collection though is a standout. We personally love these gowns in the gold and black colors- which provide just the pop you need for an elegant wedding. These gowns also come in very flattering silhouettes, perfect for all body types and look great when styles are mixed and matched within a party. 
We hope to meet you and your girls this fall and find the perfect gowns that flatter their unique figures and personalities! If you are looking for a more private party experience, don't forget we offer VIB Bridesmaid appointments! Call us or click "Appointments" at the top of the page to learn more about these amazing private appointments!