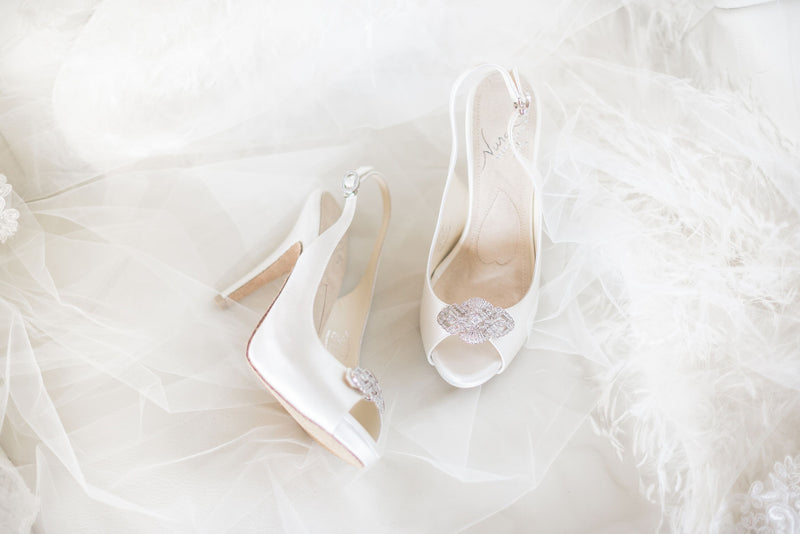 Aside from your dress, shopping for shoes is a very important part of your bridal look. They are what you will wear your entire wedding day from early in the morning, until the very last dance of the night. 
They have to be comfortable, beautiful and bridal. Angela Nuran has all of this and more. 
Photo by Dawn Joseph Photography
Coming from a professional ballroom background, Angela began designing shoes to help brides like you have a more comfortable wedding shoe. Another unique element of Angela's shoes is that you can custom dye the shoes. If you want to match your bridesmaids dresses, you can. If you're looking for your "something blue" you can dye them a beautiful shade of blue.
Photo from Angela Nuran Instagram
We are so excited about our February promotion with Angela Nuran in the Morristown salon. With the purchase of a bridal gown or evening gown, you have the choice of a free pair of shoes OR evening bag in NJ in February. We know you'll love these incredible shoes and evening bags- they will be exactly what you need to have the time of your life at your wedding. 
For those items you must have with you, an evening bag is the perfect solution! They are beautiful, sleek, and will hold exactly what you'll be grabbing for all night long- like your phone, mints, and lipstick.
Our Morristown salon manager, Jenna, wore Angela Nuran shoes for her wedding and can't say enough good things about them! After wearing a pair of Angela's shoes for almost 12 hours, she was ready to keep dancing the night away.
Give us a call to make your appointment during the month of February or visit our online booking website! We can't to have you in the salon- this event lasts until February 29th!