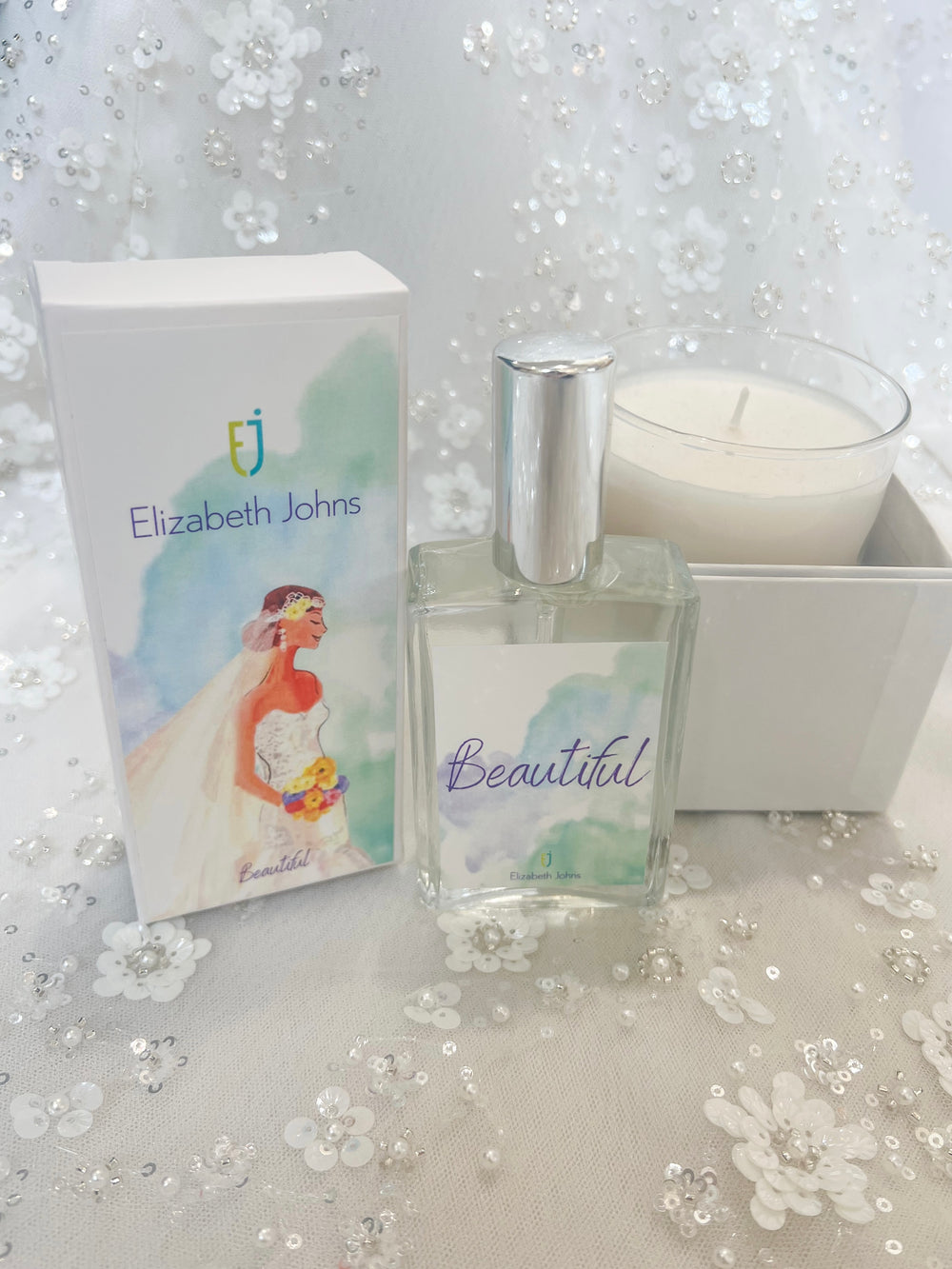 "Beautiful" Candle by Elizabeth Johns
Introducing "Beautiful" the Signature Scent Candle by Elizabeth Johns Bridal:
Elevate your wedding day with a fragrance that embodies timeless elegance and romantic sophistication. The Oud and Rose Signature Scent candle by Elizabeth Johns Bridal is a captivating olfactory masterpiece designed exclusively for brides who seek a truly unforgettable experience.
Scent Profile:
This exquisite candle opens with the enchanting and rich notes of oud, a rare and prized resin derived from the heartwood of agarwood trees. Oud lends an aura of opulence and mystery, setting the stage for an unforgettable olfactory journey.
As the fragrance unfolds, delicate and alluring notes of Rose begin to bloom. The velvety, soft scent of fresh roses in full bloom blends seamlessly with the robust oud, creating a harmonious and luxurious combination. This balanced fusion symbolizes the union of two souls, much like the union of two fragrances in this remarkable scent.
Signature Scent Experience:
"Beautiful" Elizabeth Johns new signature scent candle is designed to linger beautifully throughout your special day. Its longevity ensures that you will be enveloped in a gentle, intoxicating aroma. The candle encapsulates the essence of love, commitment, and celebration, making it the perfect accompaniment to your bridal journey.
Embrace the enchanting allure of "Beautiful", the oud and rose Signature Scent candle by Elizabeth Johns Bridal, and let your wedding day be a fragrant celebration of love and sophistication. This candle is more than a scent; it's a memory in the making, a love story told through fragrance, and a cherished keepsake from your most special day.
Size & Fit
Size charts are located in each individual item. Measurements and sizes are based on US calculations and are provided by the designers for their products. The customer is responsible for the size ordered. If you have questions regarding sizing, please email us at support@elizabethjohns.com or give us a call at 973-425-0600 to speak to a stylist.
Returns & Cancellations
Our gowns and accessories are all made to order; therefore, special orders are final sale and cannot be returned. Before placing your order please be sure the color, style, and size are correct before submitting your order. Elizabeth Johns does not accept returns on any orders, no exceptions. The submission of your order fully acknowledges your agreement to these Terms & Conditions.
You may cancel your online order (only) or request style, color, or size changes within 48 hours of placement for a full refund of all costs and fees. After 48 hours, your online special order cannot be changed and a forfeit of your payment will be adhered to if a cancellation is received after 48 hours. Please contact support@elizabethjohns.com immediately if you need to cancel or make changes to your order.
Shipping
For all online purchases, items will be shipped via FedEx or UPS with signature required. We will contact you with tracking number once item has shipped. Ship times for orders vary depending on product type and production time. All items are made to order, so please see the production times in the description of the item.
Payment
All major credit cards are accepted. We charge state, local and county taxes on online transactions based on shipping address as required by applicable laws.
---