"Yay I'm Engaged – Now What?!"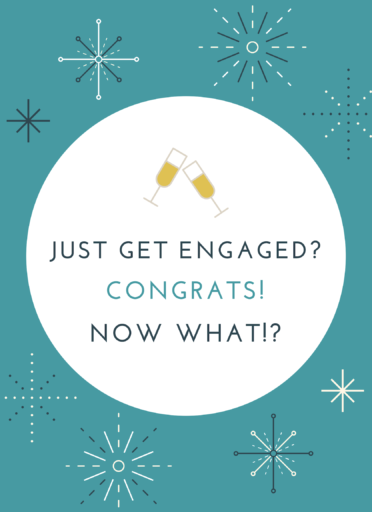 Happy 2019! Are you one of the lucky couples that got engaged over the holidays? A whopping 40% of all couples get engaged from Christmas to Valentines Day! Its such an exciting and eventful time, and one that some have dreamed about for a long time! So, now that you've slid that rock on your finger, taken at least a week or two to sip tons of champagne, and come to terms with the sparkly distraction on your left hand, it's time to get to work! Here is a quick (and non-stressful!) breakdown on what happens next:
If you want to start planning your nuptials, its time to make THE LIST. Thats right, have the budget and list conversations with both sides and put pen to paper. The guest list will help dictate where you can get married. It's no use falling in love with a venue that you have to guarantee 300 guests if you only plan on inviting 150 people.  Be honest with yourself, your fiancé, and family – this way you can confidently start calling and booking tours of venues with a good estimate on how many guests you are inviting!
Once you book your venue and have your date, you can start to visualize how your day is going to look! Now you can nail down your vendors that typically book far in advance – your photographer, florist, band or DJ, and hotel block. You can also start getting an idea of your bridal party and pending how far out your wedding is, ask them to be a part of your big day! You can also send out save the dates to make sure your guests secure your date!
Time to find "The ONE!" Made to order gowns take around 6-8 months to come in, and you want to leave around 3 for alterations, so you are looking at about a year out for your wedding gown! Do your research, have an honest conversation about budget (remember alterations are not included in the price of the dress and are necessary!), and have FUN with it! You want to have a clear idea of what you like (or don't like), but be open minded enough to let your consultant do their job in helping you find a gown that is perfect for your silhouette, venue, season, and price point. Once you get "the feeling" and say YES to your dress- stop looking! Feel confident that you chose one that you absolutely love and can't wait to wear!
Once you find your gown, that sets the tone for what your girls & mom will wear. Make a day of it and have a fun (champagne fueled) bridesmaids appointment! Bridesmaids and flower girl dresses take anywhere from 5-7 months to come in so make sure you give your girls enough time to order!  The same goes for special occasion dresses for Mom, so bring her in so she can get the attention she deserves!
Book your hair and makeup team and make sure you have a trial so you can see how it all will look! Make sure your guys get their outfits together, and you book your transportation.
About 3 months before your wedding, you'll start your dress alterations – where it will all come together. Dress, veil, jewelry, & shoes! Go over details with your florist, and make sure your photographer gives you a timeline of how your day will run. This ensures you see your day laid out and you get the shots you want!
Send your invitations out 2 months before with a dummy RSVP date a little before you actually need it. You will always have to track a couple people down.
Time to bachelorette and bridal shower and all the amazing festive times you can wear cute white dresses! We have you covered!
Have a rehearsal – even if it's a quick one before an awesome rehearsal dinner- you won't be sorry!
Get Married. ENJOY yourself. Let all the planning and stress go. Bask in the all the love that surrounds you and your spouse on that day with your family and friends.
As always, we love being a part of the process- and playing a small part in your BIG day! We look forward to meeting all of our newly engaged brides in 2019- and for the weddings of so many amazing brides this year!