Wedding Dress Shopping for Curvy Brides!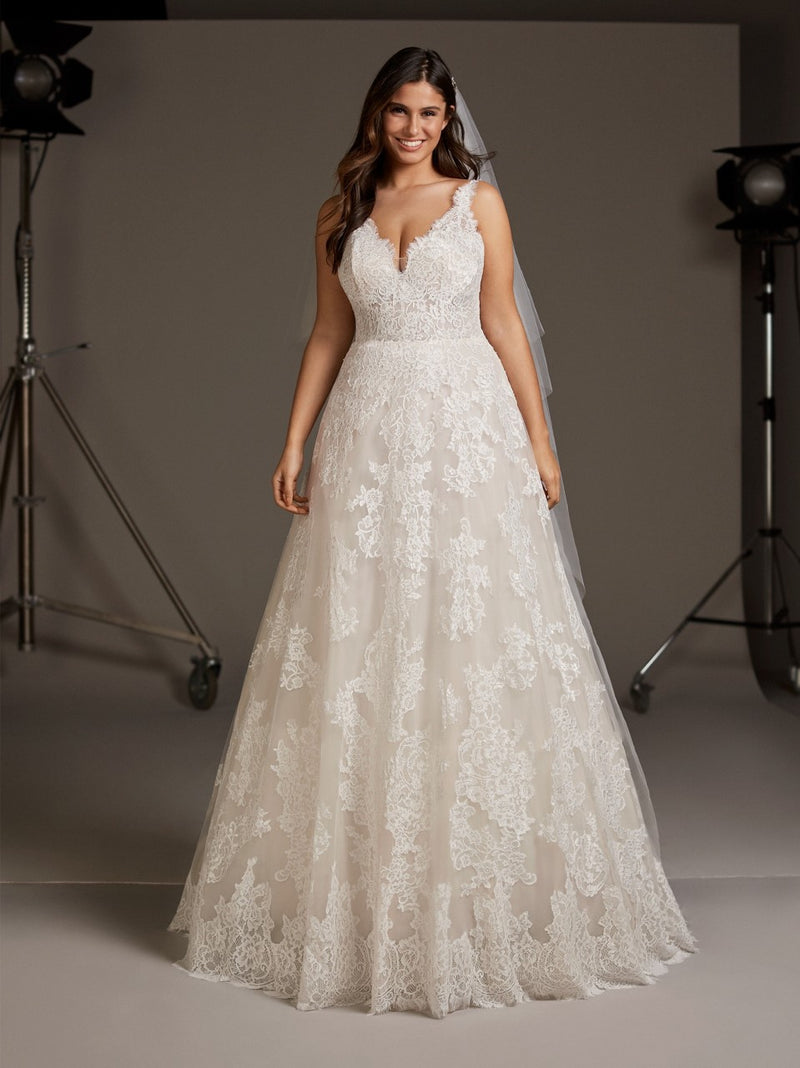 Wedding dress shopping can be daunting to any woman - the thought of trying on sample gowns in an unfamiliar place with a complete stranger can seem like a set up for failure. We are here to help change that mind set for brides of ALL sizes! 
Every person at every size have specific preferences on what they would like to flaunt, and what they would prefer to keep under wraps. That is why there are so many types of silhouettes, fabrics, shapes, and varying structural elements to dresses. Today we are going to touch upon gown shopping for our curvy girls.
Bridal dress sizing is weird. That's right. Most designers follow a european sizing guide which means that the size on the label usually ends up fitting you the same way that a dress two sizes smaller would fit. This stresses some people out! Don't let it. It's just a number. We have tips and tricks to help you visualize how smaller gowns would look on your body, and we have plus size samples that we can clip to make sure you can see the correct silhouette of the gown. What we look for is how the gown fits on YOUR body type. Do you want to show off your curves- or accentuate your waist before letting a skirt skim over your hips? We make sure we can give you the best read on how something will fit.
Some styles look better than others. Some fabrics look better than others. Some women need more or less structural elements. This is where we need you! By trying on gowns of different shapes, fabrics, and structure- you are able to identify with what looks and FEELS good on your body! Have a bigger chest with a teeny waist? You may love the feel of a built in corset, which means you can feel supported in your gown sans bra on your big day! Want to balance out broad shoulders? You may feel best in an A-line gown that keeps things tight up top and balances out your body with a beautiful skirt on the bottom (this also makes your waist look smaller!). Want to look killer in a fitted dress? Crepe fabric stretches and lays right on top of your curves which is perfect to show off a nice booty (and even provides a little stretch for comfort!). 
Don't be scared to customize either! If you fall in love with a strapless gown that you couldn't have envisioned without straps- no problem. We can get extra fabric from the designer and make straps that not only help support but also add to the overall look of the dress. Loved a ball gown but feel like it's a little "Too Much"? We can take some crinoline out, allowing the gown to come closer to the body without the bulk. Feel like the fitted dress you love is falling a little flat on the bottom? Let us add a little crinoline to ensure it balances out your top and give you that fit to flare shape you crave. 
Remember to speak your mind! Bring photos, create a closet on our site, and talk to your stylist about your ultimate goals! We carry brands that we know look beautiful on all sizes. They have stood the test of time and we appreciate their expertise in helping all of your dreams come true. Plus, our stylists have experience with women of ALL shapes and sizes so feel confident that we can help you find "The One"! 
We are here to help you and find the perfect gown to accentuate all of your gorgeous curves!