Predicting trends for NYBFW 2020!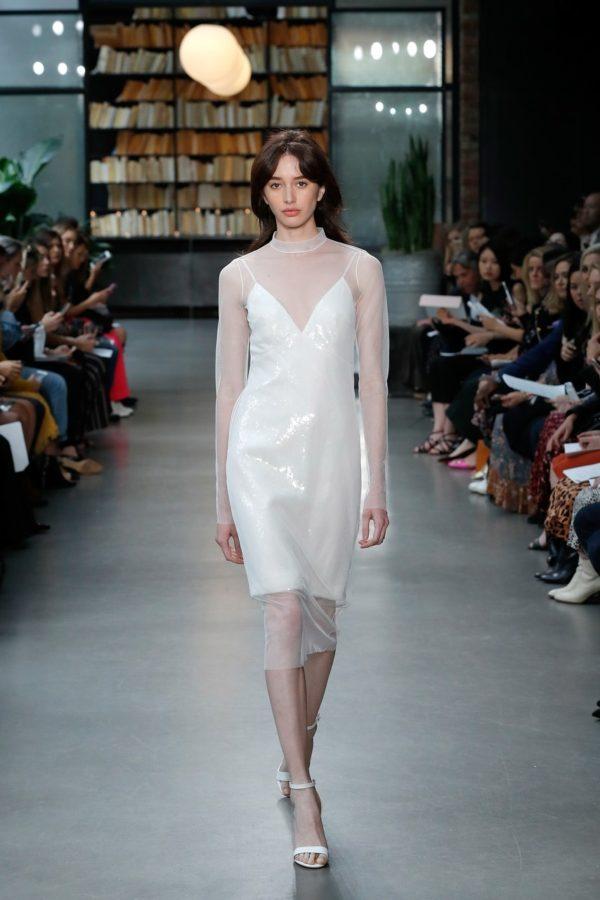 Spring is officially here and we are so excited! We are ready to embrace warmer temperatures, budding flowers, NYBFW, and the official start to wedding season! We can't wait to see the latest bridal designs featured at New York Bridal Fashion Week starting April 11!! Before that happens, here are some favorite trends that we think will continue into the 2020 collections!
Bridal Jumpsuits
Yes, we can't get enough. With or without an overskirt, for your wedding or ANY bridal event (Engagement party, Bridal shower, Bach party, Reception look, Rehearsal dinner, or Post wedding brunch). Its adorable. Its comfortable. And it gives a cool girl bride vibe to any event. We think the jumpsuit is here to stay for 2020. We love this Liancarlo version (and the matching overskirt!)
LWD (Little White Dress)
The LWD (especially this 90s inspired Amsale version) is such a fun, classic look. Running to city hall to get married and have brunch after? LWD. Want to party all night after wearing a less comfortable wedding gown? LWD. Getting married outdoors somewhere in the heat? LWD.  There are so many versions and we can't wait to see some new LWD looks in 2020!
The Bridal Shrug
The answer to every bride's question – "Do I want to wear an off the shoulder dress all night? Will I be able to dance in this?" Do a detachable shrug!  The shrug gives you a tiny jacket off the shoulder look (adding another element to your gown and usually more of the same design) with the ability to remove it once you decide it's time. This Mira Zwillinger version adds a bit more fabric and sparkle to an already incredible gown, and then allows the bride to be strapless for the rest of the night. We expect to see more of this popular accessory in 2020.
Crowns
The Meghan Markle Effect is real! Brands like Maria Elena are making gorgeous headpieces and brides are wanting to feel like a Queen on their big day! Having a statement headpiece and veil gives off Royal vibes and even if you are having a casual wedding, wearing a headpiece in your hair makes the outfit. We think we will see a LOT more of this look in 2020.
We can't wait to share NYBFW with you and keep you in the loop on all of the latest trends and looks from our favorite designers! Stay tuned to our Instagram stories to get inside access to all of the fashion shows on April 11 & 12th!
xoxo,
Liz