Holiday Gift Guide for Brides-To-Be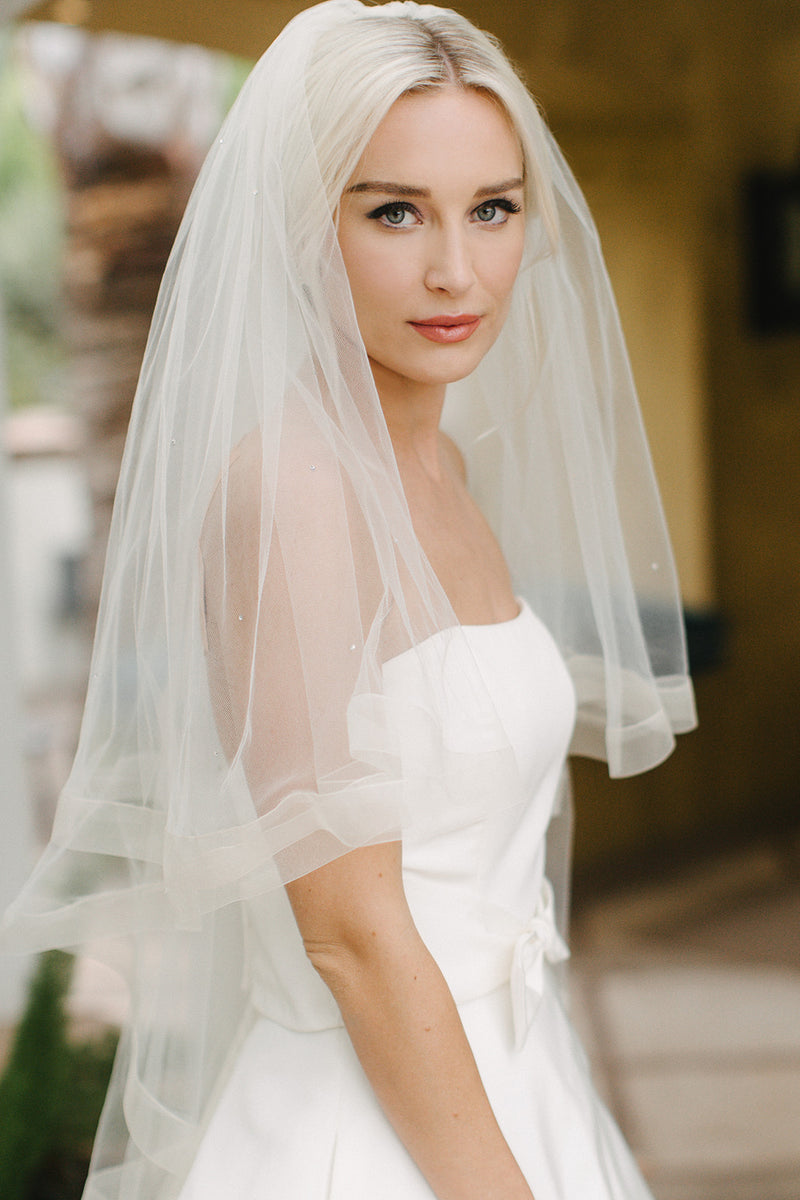 With the holidays right around the corner, there is no time like the present to check off the bride-to-be on your list! Here at Elizabeth Johns, we have so many incredible options for the bride in your life.
Our
VIB appointment
is the perfect gift if you're not sure what to get the bride-to-be.  The salon is entirely yours for an extended 2-hour appointment! That's right, just the bride, up to 10 of her closest family and friends, and the stylist are the only ones in the salon. There will be champagne and light bites of the bride's choosing the entire appointment! All of these amazing elements are included in the $500 appointment fee. And after she finds her dream gown, the bride will receive a $300 accessories credit to use at the salon!
It's the perfect way to spend time together around the holidays or leading up to the big day! Call us today to make your appointment, these appointments can only be made over the phone! This is an incredibly special gift for the bride that will create memories for you and your loved ones for years to come!
Adding a monogram to a wedding gown is an amazing way to turn a special gown into an heirloom piece. With the bride's name or new monogram sewn into her gown, it's guaranteed to be passed down from generation to generation! You can puchase these both in store and right here on our website!
For the bride that has a large bridal party, the
VIB Bridesmaid appointment
is a fabulous option! The 2-hour appointment guarantees the entire bridesmaid floor just for your group. And like the VIB bridal appointments, there will be champagne and light bites! All of these amazing elements are included in the $300 price, plus a 10% discount for all bridesmaids dresses purchased during the appointment.
This is the ideal way to have a "meeting of the maids" so all of the girls can get to know each other before the big day and try on stunning dresses. Call us today to make your appointment, these appointments can only be made over the phone!
From now through January 31st, the salon is selling gorgeous crystal bracelets and will be donating all of the proceeds to The Goryeb Children's Hospital and The Children's Hospital of Philadelphia. One bracelet is $20, two are $35 and 3 are $45! These are perfect stocking stuffers, teacher gifts, office Secret Santa, or just a gift to yourself. Help us support these two incredible hospitals this holiday season!
Hotel getting ready photos in matching pjs and robes is a very popular trend in the bridal world. Why not gift the bride-to-be her set! With multiple colors and patterns to choose from, there is bound to be one that stands out! Plus you can add a personalization featuring her new monogram! These robes can be purchased online and in-store!
Help the bride get ready to sparkle and shine on her special day. Wedding jewelry is some of the most special pieces a girl will own or wear, so why not make her think of you when she puts on those glistening gems. We carry a beautiful array of pieces, from Maria Elena to PARIS Accessories to Glitzy Girl and Ti Adoro; we have something that will fit your bride's distinct style. We also offer a gorgeous selection of belts and sashes by Kiera Elise Accessories that will add the perfect amount of sparkle to a bridal gown.
Shoes are an important part of any brides wedding day look. They add comfort and style that will help her stay on her feet all day and night. Angela Nuran shoes are incredible for dancing the night away since they were designed by a ballroom dancer and provide maximum comfort and elegance! They can also be dyed any color in the rainbow, so if your bride wants a pop of pink for her wedding, she doesn't have to sacrifice comfort or style. 
Gifting the bride her veil is an amazing way to contribute to her bridal look. From our own Elizabeth Johns line to Kiera Elise Accessories to Pronovias, there is a gorgeous veil for every bride's look.
Not sure what you want to get her, but you know you want to be a part of her gown and wedding day look? Why not get a gift certificate! We offer giftcards for online purchases and gift certificates to be used in our salons. One of these cards might just be the little extra help to get her to her dream gown!