EJ Wedding Spotlight – Dana & Karen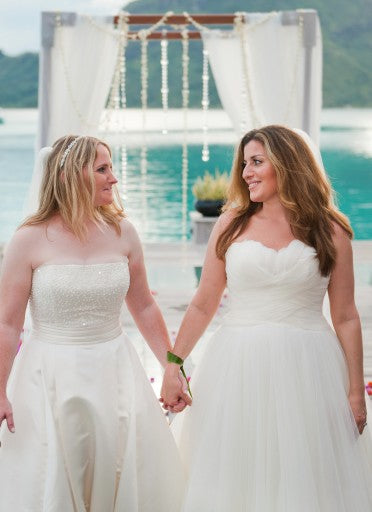 Ever dream of getting married on a gorgeous exotic island? Well…that's exactly what Dana and Karen did! This amazing couple planned a beautiful destination wedding at the St. Regis Bora Bora and their day was everything a wedding should be – filled with love and of course, gorgeous gowns!
Both brides looked stunning in their Pronovias ballgowns – Dana choosing a beautiful tulle and feathered gown, while Karen chose an elegant beaded ballgown. Both brides chose dresses that were a true reflection of their wedding day vision and gowns they really loved!
With a picturesque back drop, the couple was married in a romantic ceremony over the gorgeous tropical water. More images from Dana & Karen's big day below, as well as wedding planning advice from the brides! The entire gorgeous day was captured by Helene Havard Photography!
From Dana:  My wedding gown truly found me, it felt heaven sent. My amazing EJ consultant was not only well versed in wedding gown design, style and fit she truly listened, dreamed and aligned her vision with mine.  After trying on many stunning gowns which all had aspects I desired to weave as one, my consultant, being her enthusiastic persevering self, one day surprised me with a beautiful, ethereal, tulle gown she had located. When I placed it on, my hands found the feathers at my heart and tears streamed down my face. Beyond a shadow of a doubt, I knew this beautiful dress was divinely meant for me and guided by a higher hand. It was such a magical moment in time and my consultant, matching my excitement was the perfect person to share it with. I will always be grateful!
From Karen: Searching for the dream wedding dress was exciting, but stressful.  Stressful only because you know what you want but you just can't seem to explain it.  After searching a handful of bridal stores, and trying on what seemed to be hundreds of dresses, my consultant came out with not just one but two dresses that I LOVED. She was able to figure out exactly what I had envisioned my wedding dress to be. I loved both of them – when I put them on I felt like a princess. I smiled from ear to ear. I knew I couldn't go wrong with either dress, but one was pulling on my heart and that dress was the one for me. It just fit like a glove and is everything I was looking for.
From Dana: Long before we made any plans we chose five words, sacred to us, that we wanted our wedding to evoke. We then orchestrated every detail from location, to gowns so our intentions would be embodied; Breathtaking, Pure, Intimate, Majestic, Oasis. Our wedding was all of the above and so much more; unbelievably beautiful, magical, dreamlike, ethereal, eternal love, it truly was our fairy tale born into reality.
From Karen:  Picturesque and full of love is how I would describe my wedding day. There could not have been more love at our wedding, so much love and so much respect. The setting was like a postcard, like nothing I could have ever imagined. The water was turquoise, the mountains were magical, the palm trees swayed, the birds were singing, and the fish swam right below our feet. The sun was shining down on us, and the temperature was perfect.  The setting was like something you would see in a magazine, just exquisite.
From Dana: My wedding day was so unbelievably amazing it is not easy to pick one favorite moment. The moment when I walked down the pristine clear aqua water beach on Bora Bora to my beloved waiting for me is eternally ingrained in my mind. It was there she turned to face me in my glorious feather tulle dress, I was stunned by her magnificence. Karen's blue eyes radiated like the sea with love, her gown sparkled in the sun, I was in complete awe, my heart just swelled with love as we drank in the beauty of our love, one another and that unforgettable moment in time, I had waited so long to see my beautiful bride.  The other moment equally treasured was in the moonlight, married, dancing on the private dock of our secluded Motu, a spectacular romantic spread of dinner, candles, rose petals, encircling us in a heart, surrounded by the glistening water, balmy breezes and the sounds of our hand selected love songs. I held my bride, after a decade of love, now, my beautiful wife, in her gorgeous dress, her face glowing with happiness as we danced under the stars, I could have stayed in that moment forever.
From Karen: I have many favorite wedding day memories, but the one that really sticks out is seeing Dana for the first time.  That first glance was just unforgettable. Dana looked so BEAUTIFUL and stunning! It was then that I realized just how lucky and so blessed I was that she had chosen me to walk through life together with.
From Dana: My advice to brides is to be present through every moment, even the intensity and the enormity of the planning because one day it will be a memory. It all goes by so very fast, treasure it all, stay centered in the love and what is truly important. Remember to take great care of yourself throughout the process so you feel well, calm and simply enjoy this amazing time, you will only walk this way but once!
From Karen: I would say first and foremost, stay in the moment. Enjoy every moment, because it goes by so quickly. Don't ever assume anything during the process from start to finish, you have to stay on top of every detail. Remember this is your day, and it only happens once, so make it what you want. Also, breathe, and stay calm because after all is said and done, you are marrying your best friend, and love of your life!!!

Congrats Dana & Karen!