Ask the Experts: Our Consultants Answer Your Bridal Gown Questions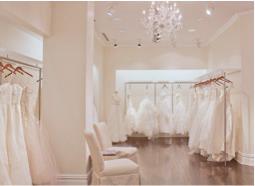 Here at Elizabeth Johns we know that bridal gown shopping is a special, but completely new and sometimes overwhelming experience for brides. To help alleviate some of the anxieties of dress shopping and to educate brides before saying yes to the dress, we've asked our Elizabeth Johns experts to answer all of your bridal gown shopping questions!
Bridal Consultant – Pat
How should I prepare for my bridal appointment?
There is very little you need to do before your bridal appointment, but some prep may make you feel  more comfortable. Be sure to check out the Elizabeth Johns website to find gowns or silhouettes that  you prefer or bring in magazine pictures, Pinterest boards, photos of previously tried on gowns, etc. This way  your consultant will get a feel for your style and be able to direct you towards the perfect gown for you!
Morristown Salon Manager – Dina
What can I anticipate at my bridal appointment?
You can anticipate having an amazing experience! Prior to your appointment, you Elizabeth Johns consultant will contact you, as we like to know a little bit about you and you to know a little bit about us. Our appointments are scheduled for 1.5 hours with a personal consultant, who will guide you from start to finish, letting you browse the salon floor for any gowns you might like to try on. Once you've identified the silhouette you love and any fabric preferences, your consultant will work with you to find the dress of your dreams!
 Bridal Consultant – BJ
  How long does it take to order a bridal gown? 
This really depends on the designer and gown you've chosen. On average, gowns take between six to nine months  to arrive in the salon after your purchase. We recommend starting your gown search about one year before the  big day, but it's never too early to start! For brides who don't have a year to wait, they have a ton of options  including sample gowns and for brides who really love a gown, some designers will expedite production to  ensure you have the gown of your dreams on your big day!
Bridal Consultant – Hollie
How do you choose a dress when you love them all?
Some brides feel as though you must cry in a dress to know it is the one, especially after watching the many bridal reality shows out there. I must say, not every bride is the same- you may cry or you may not! What is common for all brides is the special feeling you get in "the dress". You won't have any hesitation, or remorse. Every time you put the dress on it will give you a bubbly feeling. You'll notice that you're extra happy and wanting to get married that day in that dress. I have had numerous brides instantly say, "Hollie, I feel that special feeling… this is it!" No matter who you are, you will always know the one just based on that special feeling.
Bridal Consultant – Marina
I've picked the dress – what happens now?
Now that you have picked your gown, you will need to have your measurements taken. Our bridal stylists have all been thoroughly trained to take proper measurements so that your gown comes in fitting very close to your figure. It will take 6-9 months for your gown to arrive in our salon, so it's a good idea to decide on your veil and accessories at that time as well. The more you have done early on in the process, the more time you will have at the spa in the weeks leading up to the wedding — it's all about the pampering!!
Bridal Consultant – Deborah
When will my dress come in? Why does it take 6-9 months to order?
Timing for dress production can vary depending on the designer.  Typically, six to nine months is the timeline that designers will provide. Because most of our bridal gowns are made to order, a considerable amount of time is needed for the entire process which includes ordering, production and delivery.
Ardmore Salon Manager – Laurie
What is a trunk show?
A trunk show is when a bridal designer provides a salon with either their best-selling collection or their latest collection of dresses – sometimes both! A representative or the designer themselves is usually present at the salon to answer any questions brides may have and can offer suggestions or ideas for customizations.
Bridal Consultant – Janice
What should I bring to my first fitting?
Once your wedding gown is in, your bridal consultant will call you to schedule your first fitting. Typically, fittings should start about two months before the big day! The average bride has about three fittings to ensure her gown is perfect!
For the first fitting, brides must have the shoes they'll be wearing on the wedding day, as the brides hem is fitted based on that length. You'll also want to bring along any undergarments you plan on wearing, as those will also affect the fit of the dress.
Do you have any tips for brides currently looking for their dream dress? Have bridal gown questions you'd like answered? Share below or email c.ohle@elizabethjohns.com